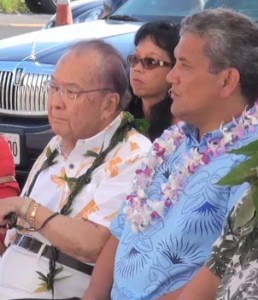 Video courtesy Hawaii County Office of the Mayor | Voice of Stephanie Salazar
KONA, Hawaii: U.S. Sen. Daniel K. Inouye was on hand in Kona to tour portions of the nearly completed Ane Keohokalole Highway. Inouye also got to see the adjoining cultural interpretive center that is being funded as part of the highway project.
The $1 million interpretive center focuses on the culture of the ahupua'a of Keahuolu through a 16th century farm, or kauhale. County officials say the center will be a repository for artifacts found in the area, and offer a quiet and private resting place for Native Hawaiian remains. The interpretive center in this culturally rich area is expected to be completed by the end of the year, and was designed by Kari Kimura, a Kona native who attended the Massachusetts Institute of Technology.
Meanwhile, the three-mile-long highway, also known as the Mid Level Road, is being constructed by Nan Hawaii Inc. of Honolulu, and will open a major new traffic corridor parallel to the Queen Ka'ahumanu Highway along the Kona Coast. It will also provide access to hundreds of acres of state lands and Hawaiian Home lands slated for affordable housing projects. The highway construction is on time and on budget. Paving should start in early December, and is expected to last about eight weeks. The project includes a program to preserve a dryland forest near the new highway.
The $32 million dollar highway is being funded by the American Recovery and Reinvestment Act of 2009, and today Big Island Mayor Billy Kenoi thanked Senator Inouye for his help in obtaining federal funding for the project.