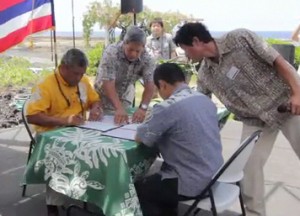 Video by David Corrigan, Baron Sekiya of Hawaii247.com, and the County of Hawaii | Voice of Stephanie Salazar
KONA, Hawaii: Hawaii County Mayor Billy Kenoi and other administration officials were busy this weekend with a number of special events.
In Kona, island residents gathered at the West Hawaii Civic Center to recognize International Fetal Alcohol Syndrome Awareness Day.
This worldwide movement aims to raise awareness about fetal alcohol exposure during pregnancy, the largest known, and entirely preventable, cause of mental retardation and developmental disabilities.
The North Hawaii Drug-Free Coalition says about half of the pregnant women on the island have tested positive for alcohol.
On Saturday, Mayor Kenoi joined Mufi Hannemann, President & CEO of the Hawaii Hotel and Lodging Association (and Congressional hopeful), at the Hapuna Beach Prince Hotel to distribute the 2011 Charity Walk checks to numerous non-profits.
About 60 Hawaii Island organizations received the more than $154,000 raised at the 33rd annual Visitor Industry Charity Walk held at the Mauna Lani Resort on Saturday, May 14, 2011.
The Charity Walk is a statewide event that occurs simultaneously on Oahu, Maui, Kauai, and the Big Island. This year, more than 10,000 walkers raised $1,155,100 and helped over 220 local charities.
And on Sunday, County officials entered into a Sister City Relationship with the island of Kumejima in Okinawa, Japan … during an Ocean Thermal Energy Workshop at the Natural Energy Laboratory of Hawaii.
Officials say the agreement stresses economic ties rather the traditional cultural bonds of sister city relationships.
Kumejima is an island about 50 miles east of Naha, Okinawa. Kumejima's economy is based on the visitor industry and sugar cane… sound familiar?
Officials say Kumejima, which has a climate and appearance similar to Kauai, also shares another similarity with Hawaii Island… a deep sea pipeline which has allowed aquaculture to blossom on the island.
In November, public and private officials visited Kumejima to take part in an OTEC Workshop, where the possibility of a partnership between their island and ours was discussed. This pact, which officials say could result in the establishment of a demonstration plant at NELHA using the 55-inch pipelines already installed at the facility on Keahole Point, will be further discussed at the workshop by Japanese and American officials.