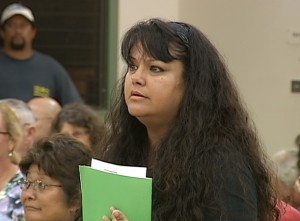 Video by David Corrigan | Voice of Stephanie Salazar
PAHALA, Hawaii: A large crowd gathered at the Pahala Community Center on Monday evening, for the latest of Councilwoman Brittany Smart's "District 6 Matters" meetings… and another round of public interfacing with the Aina Koa Pono biofuel company.
Under an agreement with Hawaiian Electric Light Company, Aina Koa Pono will lease some 13,000 acres between Pahala and Naalehu in order to produce biodiesel using dried plant matter grown in the Ka'u area. The biomass will be vaporized using giant microwave reactors, the only leftover by-product of which will be biochar, according to company officials.
HELCO is still waiting to see if the Public Utilities Commission will allow a cross state electricity rate surcharge to help pay for the project. Aina Koa Pono says the price increase will only go into effect if the facility becomes operational.
Project officials say building, mainataining and operating the facility will generate hundreds of local jobs.
Aina Koa Pono officials also spoke about the proposed feedstock that will be used for the biofuel project… bana, a robust growing elephant grass. Company officials promise it will not be genetically modified.
And in an attempt to satisfy the public, Aina Koa Pono officials announced that they will be putting together an Environmental Assessment, even though one is not mandated.
Still, it didnt take long for the audience to grow tired of the presentation, as the community grew itchy to ask questions and to share their opinion.
One of the biggest concerns expressed by the crowd; the impacts the project will have on the environment. Some asked about the need for a chimney in the project that boasts clean energy. Officials say the plant will need to obtain an air permit.
Residents are also concerned about the microwave technology that will be used. Officials said that the Aina Koa Pono plant may end up being the first microwave technology for use in biofuel production at the 100 ton scale, although there are supposedly others under construction around the world.
Still other residents are concerned about the 8 trucks that will be hauling the biofuel (roundtrip) on the highway to Kona.
In fact, some residents insisted that the use state roads to transport the fuel is a trigger to a mandatory EA.
But no matter what Aina Kona Pono's answer to these many questions may be, resident Sophia Hanoa says she simply does not trust the company.
Meanwhile, Aina Koa Pono still has a long road ahead before work can begin in Pahala.
For more info, Aina Kona Pono has published a Frequently Asked Questions pageon their website.