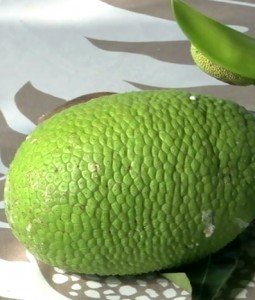 Video by Matt Binder & Lynn Beittel, Visionary Video | Voice of Stephanie Salazar
CAPTAIN COOK, Hawaii: The 2011 Breadfruit Festival — Ho'oulu ka 'Ulu – was held at the Amy B.H. Greenwell Ethnobotanical Garden in South Kona on Saturday.
The location teamed up with the Hawai'i Homegrown Food Network, and the Breadfruit Institute of the National Tropical Botanical Garden to present the event.
The Breadfruit Festival celebrated the rich culture of breadfruit (known as 'ulu) in Hawaii and the Pacific, raised awareness about the importance of breadfruit for food security and gave the people an opportunity to taste many delicious ways that breadfruit can be prepared.
Andrea Dean, the Co-Director of the Ho'oulu ka 'Ulu project, shared her thoughts in this video.
We will have much more from this event in up coming weeks. The Festival was free and open to the public.