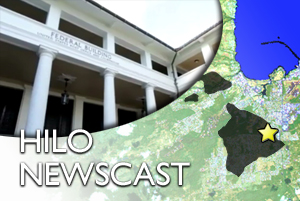 By David Corrigan, Tim Bryan, Baron Sekiya of Hawaii247.com, and Stephanie Salazar
HILO, Hawaii: This update covers a number of important events in Hilo, Hawaii
Federal Building renovation celebrated
A $8.9 million renovation of the historic Hilo Federal Building is complete, and the community came out to celebrate on Thursday. This video was provided by Hawaii24/7's Baron Sekiya.
Numerous dignitaries were on hand for the ceremony, including Mayor Billy Kenoi and Tim O'Connell, Assistant to the State Director of Rural Development for the USDA.
The two year project, using federal stimulus dollars, wrapped up last month.
Constructors Hawaii, Inc. served as the general contractor for the job. Gene Nagao talked about how the building used to have a drop-ceiling in the former courthouse room which was opened back up to original height.
Also speaking in this video: Keith Lew, the Project Executive of the Property Development Division of GSA
The two story structure is the oldest federal building in Hawaii. It was built in 1917 and continues to serve the community as a post office. It is also home to the U.S. Department of Agriculture's Rural Development, Farm Service Agency and Natural Resources Conservation Service.
UPCOMING: Queen Liliuokalani Fest
This weekend, the annual Queen Liliuokalani Festival will be held at the scenic Japanese style bayfront gardens of the same name.
The event kicks off at 10 a.m. and features cultural activities and demonstrations, Craft Booths, Taiko Drumming, Children's Games, an Urasenke Tea Ceremony, Ono Local Style Food, and Local Entertainment.
The festival is also known for its mass hula, accompanied by a "floral rain" usually delivered by a Blue Hawaiian Helicopter.
This video of the festival was taken in 2008.
Dr. Brian Schmidt gives talk in Hilo
Dr. Brian Schmidt, awarded the Nobel Prize in Physics this year for his co-discovery of "dark energy", spoke before a packed house at the University of Hawaii at Hilo Campus Center on Wednesday.
Tim Bryan was on hand to film the event.
Dr. Schmidt was in Hilo as part of his work with the Gemini Observatory. The lecture was co-sponsored by Gemini Observatory, the University of Hawai'i at Hilo, and the 'Imiloa Astronomy Center.
Dr. Schmidt, of the Australian National University's Mount Stromlo Observatory shares the Nobel Prize with Saul Perlmutter of Lawrence Berkeley National Laboratory/UC Berkeley, and Adam G. Riess of Johns Hopkins University and the Space Science Institute.
The discovery of dark energy has changed mankind's understanding of the universe.
For such a potentially complicated and mind boggling topic, audience members said Dr. Schmidt was able to explain his work so that it was understandable to the audience of mostly laypersons.