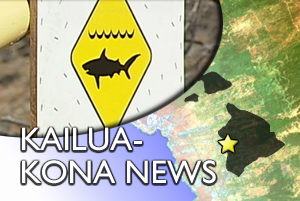 By David Corrigan and Stephanie Salazar
[File Video, shark attack interview by Lynn Beittel]
KAILUA-KONA, Hawaii: Two popular Kona beaches were re-opened on Tuesday, after shark sightings forced closures.
The Hawaii County Department of Parks and Recreation reopened Kahalu'u Beach Park as well Magic Sands and La'aloa Beach Park on Tuesday around 1:30 p.m. after the County flyovers revealed no further shark sightings.
The two beach parks were closed on Tuesday morning and Magic Sands was closed Monday afternoon after an approximately 16 foot shark was spotted within 20 yards of shore.
The Chopper crew spotted the a shark of similar size between Magic Sands and Kahalu'u and kept the beaches closed on Tuesday.
In other news… A little ways up the mountain…
The County of Hawaii says it will extend the mauka lane along Mamalahoa Highway by five feet for a pedestrian path in Hōlualoa town.
The Department of Public Works says the pedestrian path will begin at Hōlualoa Elementary School, for a quarter of a mile ending at Imin Center.
In 2009, during a community meeting held in Holualo, Mayor Billy Kenoi got an earful from the public about the need for pedestrian opportunities along the historic corridor.
Road construction is scheduled to begin Tuesday, and Wednesday, October 25-26, and may continue through Thursday. One lane will remain closed from 9:00 A.M. to 1:30 P.M. The DPW says please plan for delays.