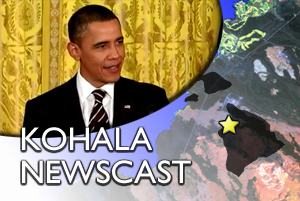 By David Corrigan and Stephanie Salazar
[File Video, video courtesy The Whitehouse]
KOHALA COAST, Hawaii: America's Great Outdoors Initiative, launched by President Barack Obama to develop a 21st Century conservation and recreation agenda is shining the spotlight on the Kohala Coast of the Big Island. This video was filmed in February of this year.
Now, just days before the release of 50-state report outlining some of the country's most promising ways to reconnect Americans to the natural world, Secretary of the Interior Ken Salazar today highlighted two projects in the state of Hawaii that will be included in the final report —
One is the Wailua River National Blueway on Kauai… and the second is the Ala Kahakai National Historic Trail on Hawaii Island.
Thirty-one miles of coastline on the Island of Hawaii make up what the Department of the interior calls the "North Kona-South Kohala Coastline String of Parks", beginning at Honokohau Small Boat Harbor and ending at Pu'ukohola Heiau National Historic Site.
Hawaii wants to connect these seven national, state, and county parks via aquatic and terrestrial trails interspersed with multi-use recreation facilities.
The National Park Service's Ala Kahakai National Historic Trail already provides land links through parks in coastal areas, and it could be linked by sea as well, via recreational-boating opportunities.
The department notes that in addition to providing recreation access, the North Kona-South Kohala Coastline has a rich cultural history, including ancient artifacts at sacred sites and great potential for environmental education and interpretation.
Big Island Video News filmed the signing of the Memorandum of Understanding between state, county, federal, and community partnerships at Spencer Beach park in February 2010.
The National Park Service is currently working with a dozen local communities in the trail corridor to develop community-based trail-management plans.
The plans include an economic-development component, which is focused on job creation within the recreation- and visitor-services fields. This project meets America's Great Outdoors Initiative goals and is supported by state and community entities.
The report will also include potential actions by Interior and its bureaus to support the projects identified.
The Department says it could also provide technical and financial assistance to the Island of Hawaii to enhance the Ala Kahakai Trail and provide new access along the Kona Coast.