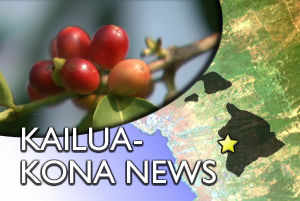 By David Corrigan and Stephanie Salazar
[File Video]
KONA, Hawaii: State Senator Malama Solomon will be facing the land board on Friday, over what DLNR officials say was the trespass of a bulldozer on unencumbered state lands next to the senators Kohanaiki property, and alleged damage to archaeological features.
Apparently, an area resident complained about the grubbing work, expressing concern that archaeological sites were being damaged. The work was reportedly being being done to put the property into productive agricultural use. A DLNR investigation later confirmed that the bulldozer had indeed damaged a number of archaeological features on Solomon's land and on state lands.
The senator will have to submit a treatment plan for the restoration prior to commencing any work.
A fine is not being recommended to the land board.
Kona Coffee Cultural Festival
Its almost that time of year again – the coffee harvest is about to commence, and the 41st annual Kona Coffee Cultural Festival is ready to go.
Organizers have just put out a call for entries for several popular events…
For example, rise early on Sunday November 6th for the UCC Hawaii Kona Coffee Picking Contest.
Registration starts at 7:30 am at the Ueshima coffee farm in Holualoa. Coffee pickers of all ages and experience are welcome!
Got a favorite recipe using 100% Kona coffee? Hurry up and enter in the KTA Super Stores Kona Coffee Recipe Contest… there will be professional, amateur, culinary student and keiki divisions for great cash prizes and bragging rights. Entry forms available at konacoffeefest.com. Deadline to enter is Wednesday, November 2.
Entry form and pictures for the Kona Coffee Art Show are due on october 28th
The prestigious Kona Coffee Cupping Competition is still taking Kona Crown division entries until November 3rd. Sorry, classic division is already closed.
New to the festival this year… the Kona Barista Jam and international Ultimate Barista Challenge. The top scoring Hawaii barista will win a trip to attend the annual Specialty Coffee Association of America conference in Portland, Oregon next April.
And the Kona Coffee Lei Contest, part of the November 12th event at the Old Kona Airport. There will be two categories – Wili and Kui – and cash prizes. Entries must be submitted by 10am Saturday, November 12 at Makaeo County pavilion. Log onto konacoffeefest.com for entry forms and more information.