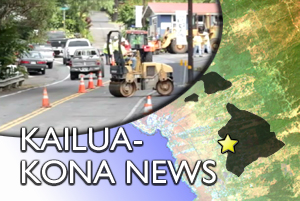 By David Corrigan, Baroin Sekiya and Stephanie Salazar
[Video by Baron Sekiya, Hawaii247.com, File Video]
HOLUALOA, Hawaii: Today, ee have some footage – courtesy Hawaii24/7's Baron Sekiya – of the much-anticipated Holualoa pedestrian path going in.
The County of Hawaii is extending the mauka lane along Mamalahoa Highway by five feet in order to create a walkable pathway.
The pedestrian path will begin at Hōlualoa Elementary School, and will go for a quarter of a mile ending at Imin Center.
The county hopes to mhave the work completed in time for the Holualoa Village Coffee & Art Stroll – part of the 41 annual Kona Coffee Cultural Festival – on November 5th.
Included is some video about the town of Holualoa, taken during the Ukulele Jam in June 2010. The footage helps explain why the pedestrian path is so important to the town.