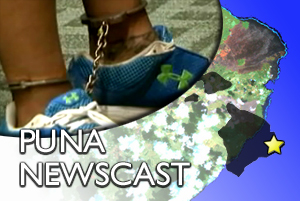 By David Corrigan and Stephanie Salazar
[File video by Daryl Lee and Charlie Hazelton]
HAWAIIAN PARADISE PARK, Hawaii: Folks both online and on the street were shocked and increasingly disturbed by the news of crime after henious crime, apparently unrelated yet all occurring within 10 miles of one another in Puna.
Saturday started off with two startling acts of aggression in the early morning hours…
Around 2:40 a.m. police responded to a report of a victim with a gunshot wound and found a 36-year-old man with a head wound, allegedly received following a brief confrontation involving at least three other local males in a sedan, while he was driving on Highway 130 in the area of the Ainaloa subdivision.
The suspects fled the area in the vehicle—described as possibly being similar to a Ford Escort or Nissan Sentra. The victim was treated at Hilo medical Center and released. There have been no arrests made in that incident.
Meanwhile, in Hawaiian Paradise Park, a horrifying home invasion left 69 year old Mary Davy hospitalized. Davy was allegedly attacked with a pair of her own gardening shears by this 18 year old neighbor… Seferin Tilipou… who is now facing charges of attempted second-degree murder, first-degree burglary and first-degree assault.
Police apprehended Tilipou shortly after he fled the scene, who was found hiding in a nearby house.
Tilipou – who is hearing-impaired – will undergo a psychological examination before he returns for a hearing at 1:30 p.m. on Nov. 22.
Davy was released from Hilo Medical Center on Monday.
Her daughter Suzanne MacAdam, who was on the phone with her mom as the assault happened, detailed what she heard in this interview right after the incident.
Even beyond Puna makai, bold criminal behavior was making headlines. On Monday at Wailoa State Park, a group of teenagers were reportedly attacked by a larger group of assailants reportedly swinging baseball bats. In Eden Roc, a home on ohia Street was burglarized over the weekend, and on the way out the thieves tried to burn down the house.
And back in the 10 mile red zone of Hawaiian Paradise Park and Keaau, the unsettling accounts of threatened violence made headlines.
18 year old Dustin M.K. AhChong was charged with kidnapping and six counts of first-degree terroristic threatening for an incident that allegedly occurred one week ago at a home in Hawaiian Paradise Park.
During a domestic dispute over custody of an infant, police say AhChong pointed a hand gun and then a rifle at five victims and threatening to shoot them if the infant was not surrendered to him.
Police arrested AhCong and both weapons were later recovered… it turns out they were an "air soft" pistol and a pellet rifle.
No one was hurt in the incident.
But the big story came a few days later, when this man – 18 year old Jeremy Costa – allegedly posted threats towards Kamehameha Schools Keaau campus on his Facebook page.
Police arrested and charged Costa – who was an ex-Kamehameha Schools student – with first-degree terroristic threatening.
Police said they took the Costa's alleged messages very seriously.