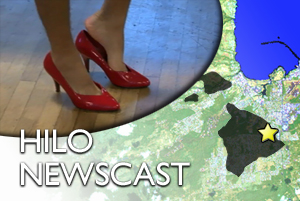 By David Corrigan, Tim Bryan and Stephanie Salazar
[WhyWalk video by Tim Bryan, Pet Walk video by David Corrigan]
HILO, Hawaii: The 2011 whY-Walk… the YWCA's annual men's march to stop rape, sexual assault and family violence… hit the streets of Hilo this Saturday.
This year, walks were held on both sides of the island, to raise money to raise money and support community programs like Sexual Assault Support Services, Teen Court, Healthy Start, Enhanced Healthy Start, Preschool and Aquatics.
Tim Bryan caught up with the participants before the walk, as they gathered at the Ululani Campus to slip into their shoes for the day…
Island residents may know this event from its former name, "Walk a Mile in Her Shoes" … Monica Adams, YWCA board member and co-chair of the event, explains the name change.
Another walk – of a different kind – was held the same day… as the Hawaii Island Humane Society Pet Walk marched around Queen Liliuokalani Park
Pet owners came to exercise themselves and their pets – mostly dogs – during the free, fun, family-friendly Halloween weekend event.
Not all the canines had costumes, although their was an opportunity to win contests and prizes during the day's festivities.
Walkers with – or without – pets were urged to raise pledges and support the Hawaii Island Humane Society. Teams and team challenges were also encouraged!
Proceeds from the Pet Walks benefit some of the many needs of Hawaii Island Humane Society including pet food supplies and low-cost spay and neuter services to help eliminate pet over-population.