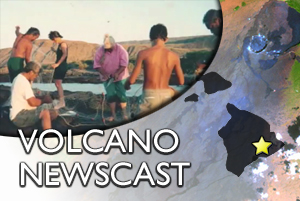 By David Corrigan and Stephanie Salazar
HAWAII VOLCANOES NATIONAL PARK, Hawaii: The Hawaii Volcanoes National Park's annual film festival called "DIGITAL MOUNTAIN: IT'S MY TRAIL" wrapped up on Saturday, and this year's winners were named at the evening finale event, according to the Ka'u Calendar.
This year's grand prize – for the second straight year – went to Kukui Keliihoomalu for his film called "It's My Trail".
In it, he interviews his grandfather Robert Keliihoomalu about the family tradition of fishing, collecting limu and `opihi, and hunting wild goat and fishing along the Kalapana coast and taking the Apua Point Trail which ended at Queens Bath.
Kukui received a high-definition digital camera.
Other winners: First place went to Aiyana Wessels for the film entitled "It's My Trail and Now It's Yours" … secong place went to Pua Swift, who focused on Devastation Trail. Third plave was Briana Tucker-Archie for a film on Kilauea Iki Trail called "Just for A While".