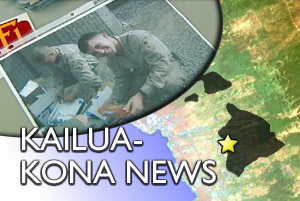 By David Corrigan and Stephanie Salazar
[Video by David Corrigan]
KAILUA-KONA, Hawaii: The Rotary Club of Kona Sunrise invited the public to help with Operation Aloha Phase IV, which is an an effort to provide care packages to U.S. Marines overseas.
The volunteers asked for donations throughout the day outside the Walmart in Kona.
The troops are part of the Charlie 3/3 Company, known as "America's Battalion." The 200 Hawaii based Marines are now in Afghanistan, and are scheduled to be deployed until May, 2012.
Ann Goody explained to us how the project came about.
The groups plans to get all the donations together for a mass mailing in just a few weeks. As you can see, they are already well on their way to another successful holiday care package.