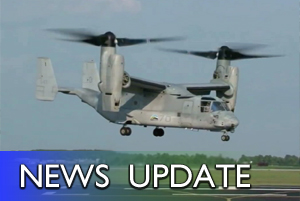 By David Corrigan and Tim Bryan
[Video courtesy NAVAIR]
HILO, Hawaii: The Department of the Navy, U.S. Marine Corps, published a draft Environmental Impact Statement for basing and operating MV-22 Osprey tiltrotor aircraft and H-1 Cobra and Huey helicopters in Hawaii.
These aircraft will be used in support of Marine Expeditionary Force units stationed in Hawaii. The Draft EIS was posted in the Federal Register last week and is available on the website http://www.mcbh.usmc.mil/MV22H1EIS. A 45-day public comment period is underway.
The Marines want to conduct training in Hawaii with up to two Marine Medium Tiltrotor squadrons with a total of 24 MV-22 aircraft, and one Marine Light Attack Helicopter squadron composed of 15 AH-1 and 12 UH-1 helicopters.
Improvements to accommodate the new aviation squadrons are planned. Pohakuloa Training Area is on the list. The document says the military will be looking to expand the existing helipads at PTA.
The Draft EIS assesses potential environmental impacts of the proposal.
Because the squadrons would train on land owned or controlled by the Department of the Army, the Army is a cooperating agency in the preparation of this EIS.
Five public comment meetings are scheduled to share information and to receive oral and written comments.
On Hawaii Island, two meetings will be held.
November 30th at Waimea Elementary School Cafeteria, from 5:30-6:30 p.m.
And on December 1st, at Hilo Intermediate School Cafeteria.