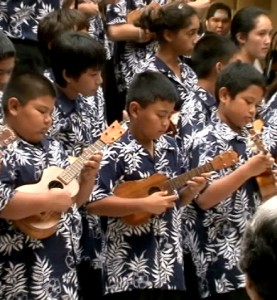 By Tim Bryan, David Corrigan and Stephanie Salazar
[Video by Tim Bryan]
HILO, Hawaii: The spirit of the holidays was on full display on Saturday, as the statewide Lokahi Giving Project was on the Big Island this weekend.
Prince Kuhio Plaza – the traditional collection site in Hilo combined volunteers, donors, and entertainers all in one place, to help the less fortunate. KHON2's Jai Cunningham, anchor on Wake Up Today, was on hand as the event MC.
One of the largest acts of generosity: Six thousand dollars, donated by Paradise Auction in Hilo, which raised the money through an auction on Friday.
Meanwhile, other local families – like the Gonzales ohana – found value in the act of giving.
The most requested items are household goods like bedding, towels and toiletries.
Educational toys and gift cards are also high on wish lists.
Established in 1985 by newscaster Leslie Wilcox and Mariellen Jones, the Lokahi Caring Project provides people with opportunities to relieve the burden of struggling individuals and families through donations of goods, cash equivalents, enriching experiences, and advocacy.
The Lokahi Caring Project is a unique partnership between KHON2 and the non-profit organization Keiki O Ka Aina Family Learning Centers.