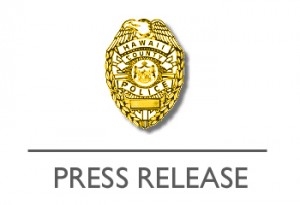 Media release courtesy the Hawaii County Police Department:
Big Island police are investigating a burglary in Puna that took place in November.
At about 2:25 p.m. on November 25, Puna patrol officers responded to a reported burglary on 26th Avenue in the Hawaiian Paradise Park subdivision. They determined that between 11 a.m. and 11:30 a.m., a 72-year-old woman was confronted by five men while outside her house.
After asking for something to drink, three of the suspects allegedly entered the house uninvited. One prevented the woman from using her phone when she attempted to call a relative for assistance.
While in the house, the suspects reportedly searched for beverages. When they were unable to find any, the victim surrendered an undisclosed amount of cash to the suspects, who fled the area on foot. While fleeing, one of the men damaged a window on a parked vehicle.
All of the men were described as being about 40 years old. One was described as African-American with short black curly hair and a short beard. The others were described as being possibly local with tan complexions and ranging in height from 5-foot-7 to 6-feet tall.
Detectives from the Area I Criminal Investigation Section responded to the scene to further the investigation, which is currently classified as a first-degree burglary, a second-degree robbery, and a third-degree criminal property damage.
The victim sustained a minor injury but declined medical treatment.
Police ask that anyone with information about this incident call Detective Derek Morimoto at 961-2380 or email him at dmorimoto@co.hawaii.hi.us.
Tipsters who prefer to remain anonymous may call Crime Stoppers at 961-8300 in Hilo or 329-8181 in Kona and may be eligible for a reward of up to $1,000. Crime Stoppers is a volunteer program run by ordinary citizens who want to keep their community safe. Crime Stoppers doesn't record calls or subscribe to caller ID. All Crime Stoppers information is kept confidential.