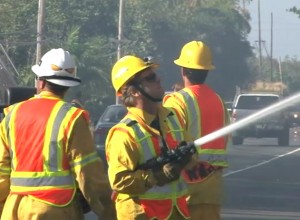 By Visionary Video, David Corrigan and Stephanie Salazar
[Video by Lynn Beittel and Matt Binder, Visionary Video]
KONA, Hawaii: An alarming sight for residents along the highway in Kona, as this small brushfire thrived in the day's dry, windy conditions.
Firefighters had the blaze under control before long on Sunday.
In this video, acting captain of the Hawaii County Fire Department's Keauhou Fire Station, Kel Kunitomo, offered the camera crew some insight into the incident.
There were no reported injuries as a result of this brushfire.