Downtown Hilo tradition set for Saturday, February 11, 2012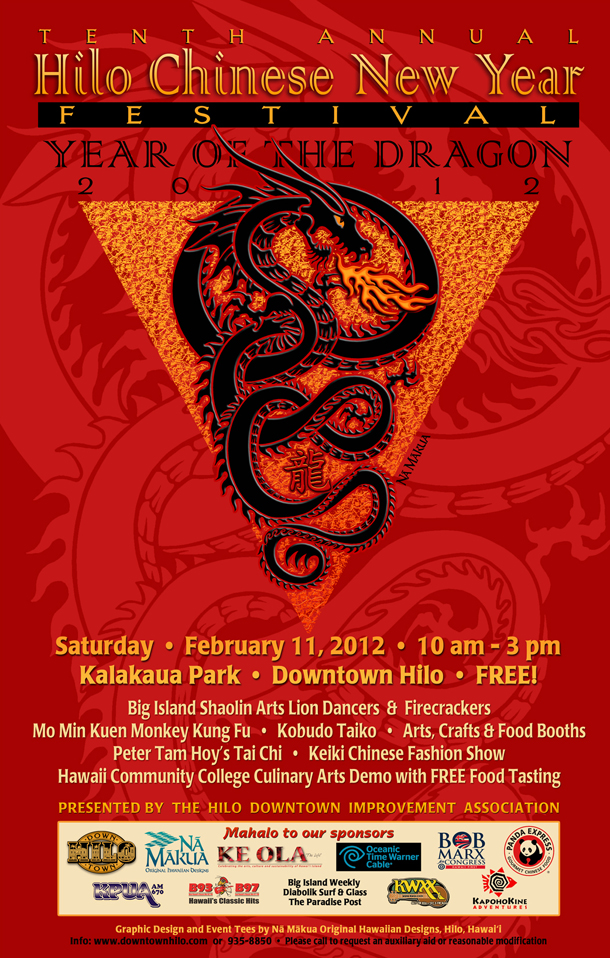 VIDEO ARCHIVES:
[FMP width="280″ height="153″]https://www.bigislandvideonews.com/media/2011/02february/0214chinese.mp4[/FMP]
Hilo Chinese New Year – Feb. 2011
[FMP width="280″ height="158″]https://www.bigislandvideonews.com/media/episodes/04/12chinese.mp4[/FMP]
Hilo Chinese New Year – Feb. 2010
Schedule of Events
9 a.m. Big Island Shaolin Arts Lion Dancers Bless Koehnen's Interiors, Sig Zane Designs, Hana Hou and Connections Public Charter School on Kamehameha Avenue
10 a.m. Big Island Shaolin Arts Lion Dancers Opening Ceremony with Firecrackers – in front of East Hawaii Cultural Center on Kalakau Street
10:30 a.m. Kobudo Taiko Performance
11:00 a.m. Mo Min Kuen Monkey Kung Fu Demo
12 noon Free Food Sampling with Hawaii Community College Culinary Arts faculty and students (under the big banyan tree)
12:30 p.m. Keiki Chinese Fashion Show
1 p.m. Peter Tam Hoy & Students Tai Chi Demo
1:45 p.m. Rulin Xiu Sings Chinese Folk Songs of different regions and cultures in China
2:00 p.m. Mo Min Kuen Monkey Kung Fu Demo & Closing Ceremony
Throughout the day inside the tents: Calligraphy Demos; I-Ching Readings; Chinese Astrology and Palm Readings; Feng Shui Consultations; Free Keiki Activity Booth Think Local, Buy Local: Shop at Hawaiian, Asian and International Arts, Crafts, Products and Food Booths!
UPDATE: (Feb. 6, 2012) Media release by Hilo Downtown Improvement Association
HILO, Hawaii: On Saturday February 11th historic Downtown Hilo celebrates the Year of the Dragon at the annual Hilo Chinese New Year Festival in Kalakaua Park from 10 a.m. until 3 p.m. The free event features a wide array of cultural activities and information, performances and demonstrations as well as Hawaiian and Asian art, crafts, products and food vendors with something for everyone.
This year the children of Hawaii are to be featured in a Keiki Chinese Fashion Show with prizes awarded to all participants. Sign up for the fashion show takes place at Kalakaua Park on the day of the Festival between 10 a.m. and 12:15 p.m. with the show scheduled to begin at 12:30 p.m. "In past years we set this up as a costume contest and we have had so many wonderful and talented children in great outfits we decided this year everybody will be a winner," said Festival MC Desiree Moana Cruz.
"Keiki, from infants to 12 years old are all welcome to join the fashion show, and they need not be of Chinese heritage," said Cruz. "The show is a chance for all young people to show respect for and embrace the Chinese culture. The Festival invites thousands of people to join our family for the day, everyone loves the kids in their fancy outfits and we help them learn a little bit about some of the significant rituals around Chinese New Year."
While not required, it is recommended that children who are planning to enter the fashion show be familiar with what sign of the Chinese zodiac they are and learn what they can about the Year of the Dragon beforehand. "It's fun to see what signs these keiki are and how much they emulate and show traits common to that sign," said Cruz.
In its tenth year, the Hilo Chinese New Year Festival is presented by the Hilo Downtown Improvement Association, coordinated by executive director Alice Moon and produced with the help of hundreds of volunteers. Media sponsors include Oceanic Time Warner Cable, Big Island Weekly, The Paradise Post, Ke Ola Magazine, and New West Broadcasting (KWXX FM, B97/B93 FM and KPUA AM). Other sponsors are Na Makua Original Hawaiian Designs, Panda Express Hilo, Bob Marx for Congress, and Diabolik Surf & Glass. For more information or to request an auxiliary aid or reasonable modification please contact the DIA at 935-8850 or askalice@downtownhilo.com.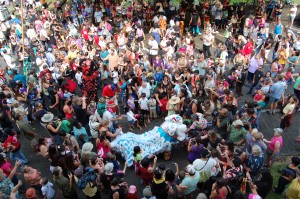 Media release from Hilo Downtown Improvement Association:
HILO, Hawaii: January 23 marks the start of the Lunar or Chinese New Year and traditionally celebrations are held for fifteen days, this year ending on February 6. This is the most celebrated holiday of the year for billions of people of Chinese, Korean, Thai, and Vietnamese descent around the world. It is celebrated with parades, large family gatherings and festivals as a time when ancestors are remembered and honored and families give thanks for their blessings. On Oahu the City & County of Honolulu holds Chinatown events starting January 6 and ending January 28 with everything from festivals to parades to the Narcissus Queen Pageant. San Francisco's Chinatown Lunar New Year activities start January 12 and pack over a dozen events into a six week schedule running all the way through the middle of February. Their famous Chinese New Year Parade that originated in the 1860's during the Gold Rush days takes place February 11 and is considered the largest Asian event in North America.
In Hilo the most recent festival tradition started back up ten years ago with the Hilo Chinese New Year Festival after decades of no large free community events to honor the rites and rituals of this auspicious time. Welcoming the Year of the Dragon the festival takes place on Saturday, February 11 from 10 a.m. until 3 p.m. in Downtown Hilo's Kalakaua Park and the public is invited to participate. "We follow the traditions of other Chinatown areas in expanding the celebrations beyond the traditional 15 day period," said event producer Alice Moon.
Leading up to the festival, from January 23 – February 6, event sponsor Panda Express Hilo helps raise funds for the festival with their flier program. Twenty percent of sales generated by everyone who presents the official fundraising flier between those dates will be donated to the presenting organization, Hilo Downtown Improvement Association for the event. Another 20 percent of sales generated on the day of the festival will also be donated. "We are truly blessed to have the support of Panda Express Hilo. We invite fans and friends of Hilo Chinese New Year Festival to try out some of their delicious food, but first visit our website at www.downtownhilo.com and download the flier to become one of our 'Grassroots Sponsors'," Moon encouraged.
On the day of the event, Big Island Shaolin Arts Lion Dancers jump, roll and dance among the roaring firecrackers and weave around the park blessing those offering up a monetary donation, usually enclosed in a small red packet called Lai See or Hung Bao. Throughout the day there will be demonstrations by the Mo Min Kuen Monkey Kung Fu and Peter
Tam Hoy's Tai Chi students, and free keiki activities provided by the Hilo High School Leos Club. A Keiki Chinese Fashion Show at 12:30 p.m. promises all entries will receive a special Chinese New Year award for participation – sign up is at the Information Booth in the park from 10 a.m. until 12 noon. The popular food sampling at 12 noon features students and faculty of the Hawaii Community College Culinary Arts Program under the direction of Chef Allan Okuda serving up free tastes to hungry crowds (and lions!).
With Hilo lacking the real thing, Kalakaua Park becomes a mini Chinatown packed with Asian, Hawaiian and multi-cultural arts, crafts and product vendors. For those looking for more than a taste, an international food court gives people a chance to eat their favorite festival foods including Panda Express Hilo's popular bowls, Crivello's Place malasadas and shave ice, Akmal's Indian and Pakistani cuisine, and more. "There are a good group of artists, crafters, Chinese and Asian product vendors with plenty of Lunar New Year items, toys, jewelry, hand sewn clothing and tablecloths, fine art, and of course the Year of the Dragon tee shirt designed by Na Makua Original Hawaiian Designs," said Moon.
The Year of the Dragon is associated with new beginnings and good fortune. Those with entrepreneurial spirit are particularly favored to see much success in the coming year. Generally, it's predicted that any new venture may benefit from the outstanding luck often associated with the dragon. Therefore, it will be a very good year to get married, have children, or start a new business. As the world suffers through one of the worst economic calamities in recent memory, bold new leadership will help ease the circumstances of those suffering most from recent financial setbacks. Since this is the year of the Water Dragon, the liquid element is predicted to calm the dragon's usually tempestuous nature, and will give a thoughtful perspective to the plight of the less fortunate.
The festival is presented by the Hilo Downtown Improvement Association and executive director Alice Moon is the original producer of the festival which involves many sponsors, community organizations and individuals in the planning and presenting processes. For more information call 935-8850, email askalice@downtownhilo.com or visit www.downtownhilo.com "Please join us as family and you too can be a part of this important annual celebration," Moon said.