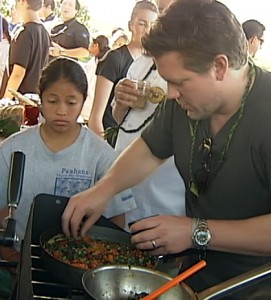 By David Corrigan and Stephanie Salazar
[Video by David Corrigan]
WAIMEA, Hawaii: Some well known faces in culinary TV were in Waimea on Thursday, giving students at the Waimea Middle School a taste of the Celebrity Chef Tour.
Jonathan Waxman, Ming Tsai, and Tyler Florence – omnipresent personalities on the Food Network – are on the island on the second annual Celebrity Chef Tour benefiting the James Beard Foundation. A big dinner is scheduled for Saturday evening at the Canoe House at the Mauna Lani Bay Hotel & Bungalows, but the first stop was the Mala'ai Culinary Garden of Waimea Middle School.
These enthusiastic students foraged for the ingredients, all grown by the students and staff at Mala'ai, for use in some improvised masterpieces by these master chefs…
Celebrity cocktail mixologist Manny Hinojosa got things started with some virgin beverages. Then Waxman and Tsai went to town, giving some quick tips from the pros as they prepared some other dishes.
Meanwhile, Tyler Florence hit the grill to cook up some special omelets, filled with the herbs grown by these students who later got to dig in to the gourmet breakfast.
This great learning opportunity was made possible in large part thanks to garden volunteer Susan Tuason, herself a chef and also the wife of the Mauna Lani's Executive Chef, Sandy Tuason.
On Saturday, the celebrity chefs will prepare an unforgettable six-course dinner centered around the best and freshest local island ingredients. Each course will be matched with exquisite wines and Hinojosa's flavorful cocktails for select courses. It is possible that diners will find some ingredients on the menu that were grown right here by Waimea's young chefs of the future.