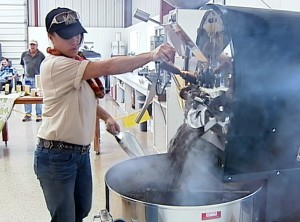 By David Corrigan and Stephanie Salazar
[Video by David Corrigan]
PAHALA, Hawaii: Hundreds turned out for the blessing of the new Ka'u Coffee Mill in Pahala on Saturday, a huge step forward for an agricultural community revitalizing itself through the caffeinated crop.
It was a who's who in Ka'u: farmers, politicians, businessmen, and entertainers… but it all wouldn't be possible without the investment of the Edmund C. Olson Trust.
Olson's right hand man, John Cross, said the project was done for the local coffee farmers…
The mill features a new gift shop, where visitors can buy Ka'u Coffee Mill coffee, as well as coffee grown by the region's award winning individual farmers, like Bull and Jamie Ka'ili'awa. Visitors will also be able to watch the process of bean to beverage, and enjoy locally created art… like this massive mural by artist Kathleen Kam.
The finished facility left local leaders at a loss for words…
After all the talking and performances – like this hula by Miss Ka`u Coffee Brandy Shibuya with the music of Keoki Kahumoku – the maile lei was untied, and the facility was blessed.
And finally, the community gave a standing ovation for Olson, in appreciation for what will certainly stand out as a highlite in a legacy of land conservation for the rural Ka'u district.