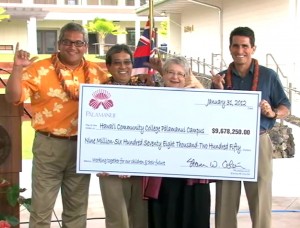 By David Corrigan and Stephanie Salazar
[Video courtesy University of Hawaii Systems]
KONA, Hawaii: The Hawaii Community College Pālamanui campus in West Hawaii has taken a big step forward.
The University of Hawaii received $9.68 million from Pālamanui LLC — a partnership between Hunt Companies and Charles R. Schwab — to begin construction of the first phase of the planned HCC campus in Kona, the university's first permanent physical campus on the west side of the Big Island.
A ceremonial check presentation was held at the West Hawaii Civic Center on Tuesday.
University of Hawaii Board of Regents Vice Chair James H.Q. Lee joined UH President M.R.C. Greenwood in receiving the symbolic check, alongside Big Island Mayor Billy Kenoi.
"Today marks the realization of a dream—that of access to higher education for West Hawai'i's underserved youth. The outlook for our children's future just got brighter," commented Hawaii County Mayor Billy Kenoi. "Building this new Hawai'i Community College Pālamanui campus makes higher education possible for hundreds of local families. Our children will be able to learn skills and new technologies so they can compete for higher paying jobs. I commend Pālamanui LLC and its partners and appreciate their honorable fulfillment of promises made."
"A college education creates opportunities for a better life," said Lee in a media release. "Community colleges, with their low cost and open access, are the entry point for many who have traditionally been left out of higher education. We are gratified by and appreciative of the efforts of all who helped bring this promise to the residents of West Hawai'i. Our West Hawai'i Regent, Carl Carlson, Jr., is out of state today but he, Chair Eric Martinson and the entire Board send their thanks to the many who made today possible."
"This new campus is a powerful example of the university's efforts to bring higher education and access to a college degree to underserved areas," stated University of Hawai'i President M.R.C. Greenwood. "We are absolutely committed to doing that as part of the university's mission. The new Hawai'i Community College Pālamanui campus will provide educational pathways to a better future not just to Hawai'i island residents, but to the residents of the entire state."
The University says an initial contribution of more than $5.2 million was delivered to the university this week. An additional $4.4 million has been placed in escrow and will be released to the university upon completion of the mid-level road connecting Kona Palisades to the new campus, which the university is building and expects to complete in April.
Officials say Pālamanui LLC will soon begin infrastructure improvements worth another $10 million for the university to connect to electricity and water lines. This necessary infrastructure will increase the Pālamanui investment to nearly $20 million and will enable the completion of the planned first phase of the campus.
Representing Palamanui LLC, Hunt Companies Hawai'i Division President Steve Colon said, "On behalf of Hunt Companies and Charles R. Schwab, I am thrilled to announce that Pālamanui has honored its commitment to provide the financial catalyst to make the Hawai'i Community College Pālamanui campus a reality. This campus has been a dream for many in the West Hawai'i community for a long time, and it is especially gratifying to know that our efforts will guarantee its fruition."
The Hawai'i Community College Pālamanui campus has been in the development stage for eight years. Officials say comprehensive building plans are now being finalized and should be completed in February.
UH will apply for building permits and will put the first phase of the project out to bid in the first quarter of 2012. A blessing, groundbreaking and the start of construction for the campus is expected this summer.
Once completed, Palamanui will become the 11th campus comprising the University of Hawai'i System.