Reports say parents and students boycott school on Monday
WAIMEA, Hawaii: On Friday's newscast, we reported that Waimea Middle School parents, students and community members planned to demonstrate their disapproval over the sudden dismissal of principal John Colson.
Last Friday was reportedly his last day on the job at the public conversion charter school.
The Oahu based Ho'okako'o Corporation, which serves as the Waimea Middle School's Local School Board, announced Colson's departure in an open letter to parents, posted on the school's website late Wednesday afternoon. An school assembly was also held on the matter.
From the school's website: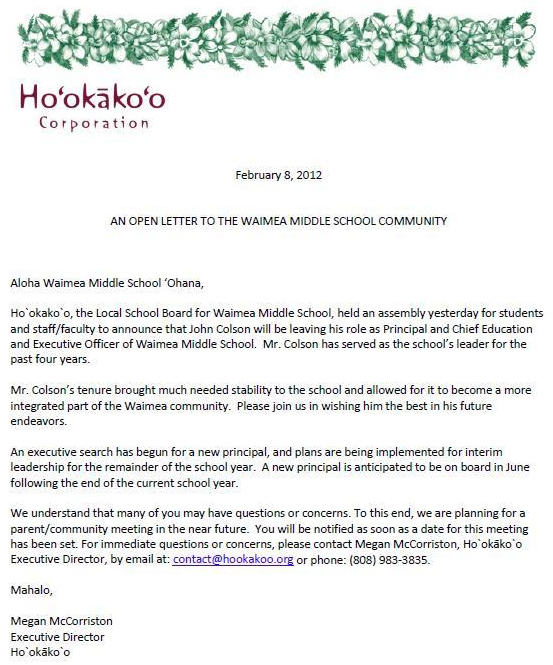 Megan McCorriston, the Executive Director at Ho'okako'o, says a community meeting is being planned in the near future.
In the meantime, staff in support of Colson say the sign waving will be held between 4:30 and 5 p.m. at Church Row Park in Waimea.
UPDATE: On Friday evening, Big Island Video News was forwarded a letter from parents pushing forward with a campaign in support of Colson.
The letter, in part, read:
On Tues., Feb. 7, 2012, we were informed by our Honolulu-based Local School Board, Ho'okako'o Corp., that our CEEO/Principal John Colson "would not be returning to school for the rest of the year; that an interim leadership team would be appointed for the remainder of the school year, and a search had started for a new principal to be in place by June. No explanation of why has been provided. Further, Mr. Colson has been told not to come to campus.

Mr. Colson has been our school leader nearly four years, and before that, a 25-year educational leader at HPA. This is someone we know as a highly respected educator who is totally committed to what's best for children. He also is a dedicated husband and father – a man of the highest integrity. This is someone who believes so much in what's best for kids that he refused to furlough our students even when it was financially very challenging! We do not believe he would abandon us now if he had a choice in the matter.

Another point: lessthan 4 weeks ago Mr. Colson underwent his annual evaluation by HC and hereceived very high marks – 4.8 out of a 5. Seems like an "A" to us – ie, his performance was more thansatisfactory! Now this? .

Further, Mr. Colson has been a progressive stabilizing influence working with teachers and staff, and our students are making significant academic progress in spite of huge financial constraints that required cutting 38+ positions. Also, our campus is one of the safest in the state. Our students know and love this man and together, we have embraced his values of Integrity, Respect, Accountability and Kaizen…but this action by HC violates all of these values. It also insults his personal and professional integrity.

WMS became a public conversion charter school in 2003 by choice because we believe deeply in locally driven collaborative leadership. This is not collaborative –was it even legal without consulting with us? Further, how could they do this to our students in the middle of a school year – so disruptive and destructive! This is not putting kids first.

We expect the entire HC Board come to WMS – and this must include Chair Keith Vieira – to meet w/ students, families, faculty, staff and community to explain this. This meeting must be at a time suitable for families to participate and scheduled with adequate lead time. Do not waste our time by only having 2-3 members of the board participate or just the Executive Director. You see, the HC Board are strangers to this school-community — in our nearly 8 years as a public conversion charter under HC, the entire current board has spent less than 40 hours on campus with us – they do not know us, our children or this community. Also, there are very few educators on the board.

As a school-community, we are deeply grateful to everyone who has helped us raise the academic bar for our students since we became apublic conversion charter school – and this includes Kamehameha Schools, which has supported us financially throughout the years as a public conversion charter.
UPDATE: On Monday, Sherry Bracken of LAVA105fm reported on the Big Island News Center website that more than half of the 280 students were kept home for at-home schooling days on Monday, as a protest against the departure of their beloved principal, John Colson. (full report on Big Island News Center)
The day before, Bracken reported extensively on the mystery behind Colson's sudden departure, here ("The Mystery of Waimea Middle School Principal's Departure Deepens").
UPDATE: The Ho'okako'o Corp. Board of Directors will be holding a meeting with the community this Thursday at the Thelma Parker Gym to discuss the "resignation" of principal John Colson. The meeting will be held from 6 p.m. to 8 p.m.
Again, from the Waimea Middle School website: