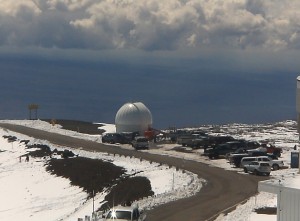 White-capped Mauna Kea and Mauna Loa visible from around the Big Island
Video courtesy Gemini and Canada France Hawaii Telescopes, voice of Stephanie Salazar
MAUNA KEA, Hawaii: A winter storm dropped inches of snow on Muana Kea and Mauna Loa this weekend, as an upper low near the islands brought sub-freezing temperatures to Big Island summits.
A winter storm warning was in effect for most of the weekend into Monday morning.
The Mauna Kea Access Road was closed to the public at the Visitor Information Station due the ice and snow on summit roads.
The Mauna Kea Rangers planned to conduct an early morning inspection today. but the road was expected to remain closed due to the pending weather.

This YouTube video was put together by Hawaii 24/7, using images taken by the Hawaiian Volcano Observatory on Mauna Loa