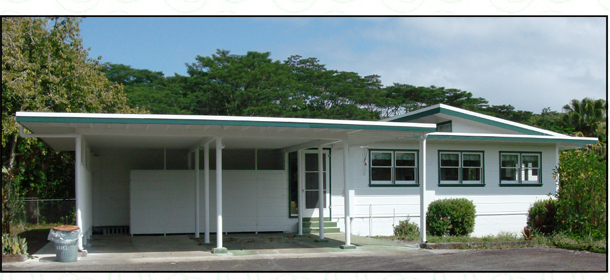 Will be used by medicine residents and medical students who come to Hilo
Media release by Hilo Medical Center Foundation
HILO, Hawaii: The Hilo Medical Center Foundation has announced completion of its project to renovate the so-called Hospital "River Cottage" for use by medical students, family medicine residents, and nurse practitioner students who come to Hilo for their training. A spokesperson for the Foundation described the project as a "truly heartwarming experience" in which many elements of the East Hawaii Community came together with voluntary donations of money, labor, and materials to undertake a project designed to assist in helping solve the long-term health needs of the Island.
The very existence of this facility is perhaps unknown to the majority of Big Island Residents. The "River Cottage" is a fairly large 12 room home that sits on the bluff overlooking the Wailuku River, situated just mauka of the upper parking lot above the Hilo Medical Center main hospital building. It's hardly visible as one proceeds up Waianuenue past the Hospital towards Piihonua . Included in the home is an entry hall, living room, four bedrooms, three bathrooms, kitchen and laundry as well as an attached covered patio and double covered two car garage.
How did it ever come into being? Only real old-timers remember the Puumaile Hospital, a specialized TB care facility, when it was situated at the end of Kalanianaole Drive in Keaukaha. The 1946 Tidal Wave and high seas in Janaury 1947 hit the facility massively. As a result, patients were moved to a temporary installation at the Hilo Airport (then the "Naval Air Station") and the Keaukaha facility was abandoned and eventually torn down. In the early 1950s a replacement Hospital called Puumaile was built. Present residents may remember that hospital….it was located where the Okutsu-sp Veterans' Home is today and was often referred to as the "Green Monster".
And the River Cottage? It was built at the same time as a residence for the Puumaile Hospital Superintendant. Providing housing for medical employees was a normal practice at that time; as far as is known, Dr. Leslie, then Superintendant of Puumaile, was the first tenant of the Cottage.
With advances in medicine and drugs, TB was eventually conquered and a good deal of the Puumaile space became surplus, so by the early 1960s the old Hilo Memorial Hospital below Rainbow Falls was closed and moved into Puumaile, with subsequent renaming as "Hilo Hospital," The " River Cottage" then became the residence of the Hospital Administrator, no longer called Superintendant. This continued all the way up to about 10 years ago, when stricter IRS interpretation of "fair market rental" of a residence facility as part of a compensation package caused the then Administrator to opt for private housing instead. As might be surmised, "fair market rental" of such a large residence is considerable!
It's an unfortunate truism that a vacant building deteriorates fairly rapidly, and such was the case with the cottage. HMC really did not have much use for it, so it sat unused and unloved. With the advent of the Rural Residency Program, however, it was suggested as a possible place where medical students, family medicine residents, and nurse practitioner students might stay during their training period in Hilo; left to their own devices, they have difficulty in finding available and affordable housing. With demographic studies showing a critical future shortage of doctors on the Island of Hawaii, any assistance rendered to medical students, family medicine residents, and nurse practitioner students might make them far more amenable to locating and setting up practices here once their training is completed. The idea took hold, and HMC started to investigate the idea of renovation and turned to the Foundation for help. The Foundation's stated mission, after all, is "to support the Hilo Medical Center with projects that benefit the greater community". It is to that end that the Foundation has already completed successful projects including renovation of the HMC Emergency Room, assistance in securing location of the Otsuka Veterans' Home here, furnishing of a new Transport Van for use by the Extended Care Home, re-carpeting of the HMC lobby, as well as various other in-hospital rehabs and refurnishing efforts. To the Foundation, the project was eminently do-able, and with Community participation could be accomplished at far less cost than otherwise projected.
Inspection showed that the roof was pretty well shot, borne out by very apparent leaks seen on the inside. Repairing that required professional help as well as money. Very cost-friendly bids from some building contractors gave a dollar goal in the $50,000 neighborhood. Funds were provided by some very generous personal Foundations, HMC Foundation Board Members, and individually approached private donors. A significant quantity of the building, roofing, and painting materials were donated by extremely community-minded companies….a look at the list of contributors tells the story and all are worthy of public thanks and business support. The building repairs went quickly and efficiently.
Concurrently, some civic organizations were contacted and volunteered their labor to complete the interior and exterior painting. While foul weather delayed some of that, the interior painting went relatively quickly. Priming of the exterior was then completed and professional final coating was done on a volunteer basis by a licensed professional painter. Some "sweat equity" by Foundation Board members, as well as an assist by HMC maintenance personnel, took care of the many minor details involved in making the cottage ready for occupancy.
And that's where "heart-warming" comes in. According to the Foundation spokesperson, over 200 individuals, both from community civic organizations and simply on their own have been involved in this project. "It has truly been a boot-strap effort from start to finish", according to the spokesperson, and accomplished at less than a fourth of what it would have otherwise have cost. The Foundation extends thanks to all who helped……by joining together, good people can do great things! The Foundation plans an invitational Mahalo and blessing ceremony on March 2nd. They look forward to occupancy by medical students and Residents starting in April.