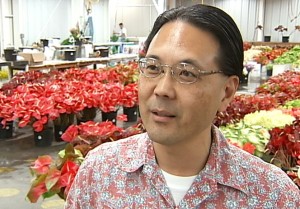 Synergistic Hawaii Agriculture Council will help market commodities
Video by David Corrigan, Voice of Stephanie Salazar
HILO, Hawaii: Three well known agricultural associations in Hawaii have joined forces in order to better market Hawaii commodities to foreign and domestic markets.
The new non-profit will be known as the "Synergistic Hawaii Agriculture Council", or "shac".
The three founding associations are the Hawaii Papaya Industry Association, the Hawaii Coffee Association, and the Hawaii Floriculture and Nursery Association. Together, they represent 543 businesses stretching from Hilo to Hanalei.
Combined, the three commodities earned $120 million in 2010.
We spoke to SHAC vice president Eric Tanouye on Tuesday. Tanouye is also the president of the Hawaii Floriculture and Nursery Association and Vice President of Hilo's Green Point nurseries.
SHAC will mainly target grants through two funding opportunities: the coast-sharing Market Access Program, which helps U.S. producers and trade associations finance overseas marketing, and "tasc", or the Technical Assistance for Specialty Crops, which tackles technical trade barriers like crop regulations, sanitation and pest-control.
Participants are hoping the new non-profit will make it financially feasible to do produce of Hawaii-orientated product shows, the brand members' commodities and support of the Hawaii Ag Department's quality standards.
SHAC will also address other issues of importance to its members, such as legislative and regulatory representation. And shac is looking to continue growing.
Immediate goals for SHAC include seeking $500,000 in MAP funds and additional TASC support to fight the coffee berry borer and possible transgenic research. SHAC will vie for funds with large organizations like the American Soybean Association, U.S. Apple Export Council and the California Table Grape Commission.