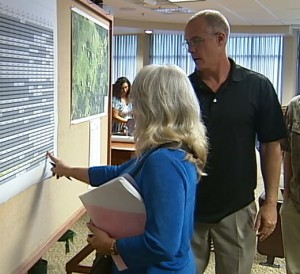 All Cool Fuel LLC highest bidder on all Paauilo parcels
Video by David Corrigan, voice of Stephanie Salazar
HILO, Hawaii: The sealed bids for leasing 718 acres of county-owned land in Paauilo were opened on Thursday, and it looks like one company is the high bidder on all 16 parcels.
All Cool Fuel LLC won the rights to lease all the parcels, although its unknown if the company will choose to do so.
A stunned group of bidders – a mix of local farmers, ranchers, and business people – watched as the results of the bid openings were posted… only to see that every single bid on the 16 different parcels were doubled or tripled by All Cool Fuels' winning offers.
Hawaii County Property Manager Ken Van Bergen explains in this video interview.
While its not known what the intentions of the company are in regards to the Hamakua lands, an August 2011 article from Pacific Business News says that All Cool Fuel wants to build an ethanol plant on the Big Island. The article says that company principal, Duane Bitner, who is an engineer at Ford Motor Co., wants to leave the automaker and build a $5 million ethanol-producing pilot project at the Natural Energy Laboratory of Hawaii Authority on the Big Island.
Bitner told the publication that he eventually sees his plant producing anywhere from 500,000 to 2 million gallons of ethanol a year. At the time, he hadn't found land or a local feedstock provider to work with, yet.
We also found the minutes of a September 2011 Natural Energy Laboratory of Hawaii Authority board meeting, in which members voted to "Approve in Concept" All Cool Fuels' biofuel and renewable co-products manufacturing plant project. Again, it was noted that no feedstock had been identified.
The bid opening for the Paauilo land leases had been pushed back a few weeks from its original date, in order to clarify the rules for bidders as far as placing multiple bids. Some wondered if by placing multiple bids they were bound to lease all parcels on which they were the highest bidder. Bergen says the issue was clarified.
When the county council passed the resolution authorizing the leases of the Hamakua lands, there was a restriction put in place on growing or experimenting with genetically modified organisms. But Van Bergen said there is no restriction on growing a feedstock for a biofuel venture.
Hamakua Councilman Dominic Yagong was instrumental in opening up the lands for lease bids, fighting passionately against an initial plan by the administration to sell the lands, which were claimed by the county as a part of a tax settlement with Hamakua Sugar Company. The lands have lay fallow ever since, and numerous attempts to unload the property by different administrations throughout the years have been met with resistance.
The community celebrated the opportunity in September, as terms for the leases and the bid process were finalized.
Now, it looks like a new industry – with a different spin on agriculture – could very well end up making use of the Hamakua lands.