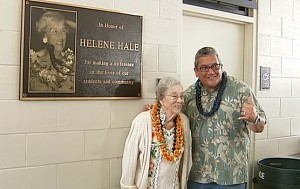 $8.6 million finally finished in Puna
Video by David Corrigan, Voice of Stephanie Salazar
PAHOA, Hawaii: Song and dance echoed in the cavernous new home of the Daggers, as Pahoa High and Intermediate School celebrated the opening of its new gymnasium.
Government and public school officials joined students of the school for a dedication ceremony that for some was decades in the making.
Pahoa High Principal Darlene Bee welcomed the crowd.
Mayor Billy Kenoi was also in attendance, on the day that he proclaimed to be "Dagger Day" in the County of Hawaii back in 2010, when the boys basketball team won the Division II state championship.
The school paid tribute to former councilwoman and legislator Helene Hale. As a community leader, Hale's efforts were integral to the realization of the new gymnasium. While serving as state representative, Hale fought to secure funding for the project.
At the groundbreaking ceremony held in August of 2009, Hale joked that she never thought she would see the day.
Not only did she see the groundbreaking, but she has now seen the official opening. At the ceremony, Hale was joined by family members.
For 69 years, from 1942 to 2011, the school has utilized the county gym for athletic and school events.
Durrant Media 5 designed the $8.6 million, 16,077 square-foot facility and Primatech Construction, Inc., served as the general contractor. The project was completed in January 2012.
With a 1000-seat capacity, the gymnasium will be the new home for Dagger sports as well as schoolwide activities, including graduation ceremonies. In fact, and the Dagger have even played a few basketball games in the new facility. And on Wednesday, students serenaded the new building with music, hula, and a cheerleader led rendition of the Pahoa alma mater.
Also on Wednesday, Pahoa high school's Green Club was the recipient of a big honor… Recycle Hawaii Executive Director Paul Buklarewicz and Education Director Howard Shapiro presented the Keep America Beautiful "Recycle-Bowl" national recognition award and a check for $1000 to the organization, which was Hawaii's winner.
Approximately 544,900 students representing 1226 U.S. public and private schools in 47 states and the District of Columbia competed in Keep America Beautiful's first annual K-12 Recycle-Bowl held in the fall of 2011.
Participating schools recovered over 2 million pounds of recyclables. As a result of their efforts, schools contributed to the reduction of greenhouse gases equivalent to the annual emissions from 154 passenger cars or 191,998 gallons of gas.
A winner from each U.S. state and the District of Columbia received $1000 based on the most recycled material per person per school. Nestlé Waters North America sponsored this year's Recycle-Bowl program.
And after the big party was finished, the remaining dignitaries moved outside for one last surprise for the honored Helena Hale. A plaque, commemorating her efforts on behlf of the school and the community, was unveiled, to the applause of all in attendance.