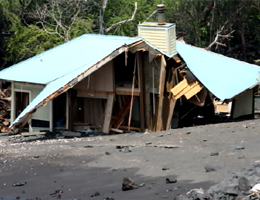 One Year Later, destruction in remote South Kona wilderness recalls La Elima
Video by David Corrigan, Voice of Sherry Bracken
MILOLII, Hawaii: Growing up in Milolii, Senator Gil Kahele has heard the stories of past destructive tsunamis, and the damage he saw on March 11th was the stuff of legend.
This interview with Senator Kahele was conducted a few weeks ago, on the day that the community gathered around the Hauoli Kamana'o Church, to celebrate La Elima… the day of February 5th in 1868 when a large earthquake on hawaii Island sent the ocean rushing over many seaside villages along the South Kona coast.
The kupuna refer to the oral histories from the time:
Although other areas were destroyed, somehow Milolii was spared the tragedy that was experienced elsewhere.
The kupuna from other South kona communities joined the village in thanksgiving, which lasted several days.
Fast forward to 2011… Again, Milolii is spared from potential tragedy…. But, whatever happened to those homes out in the middle of the South Kona wilderness?