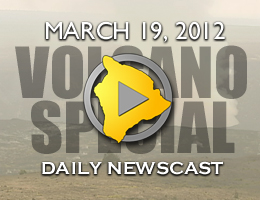 Halemaumau crater explosion anniversary
Aired on Thursday, March 15th
In this episode of Big Island Video News:
Today marks four years since the heavy plume volcanic gas first appeared at the summit of Kilauea volcano.
Tim Bryan has the story.
Plus, we look at the effects of vog on the surrounding areas since the Halemaumau vent opened, especially in Ka'u, where a planned emergency shelter may fall short of protecting against bouts of strong SO2, claims the elected official who legislated the funding for the project.
We also see how the Hawaii Volcanoes National Park has dealt with the changes at the summit, and more changes for the park that may be coming down the coast, where a bill has been introduced in Congress by Mazie Hirono on Ka'u Preservation.
Plus, follows to the Hawaiian Acres shooting, the custodial interference charges in connection to a missing boy, and a tough Aloha Friday for Governor Neil Abercrombie.