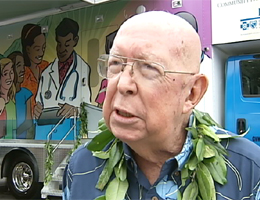 State Representative Bob Herkes blames "ridiculous" building codes
Video by David Corrigan, Voice of Stephanie Salazar
PAHALA, Hawaii: Since March 2008, vog has been especially bad downwind of the summit in the towns and villages of Ka'u.
When conditions are right, the plume can send sulphur dioxide right into the areas of Pahala, Naalehu or Wood Valley… creating a temporary health hazard for residents, especially children or the elderly.
One of the big projects being planned for Pahala, here on this open grass area of Ka'u High School, will be a new emergency shelter that will double as a school gym.
Officials hope it will serve the community well in times of need, which includes spells of heavy vog.
One of the local leaders who pushed for the project early on, a cantankerous Bob Herkes, seen in this video from 2009…
Today, the shelter has been funded and is moving along the permitting process. The comment period for environmental assessment is nearly closed. But representative Herkes is not entirely happy with the some aspects of the project.
"It wont be FEMA approved," said Herkes, "it won't be vog resistant, and that's primarily because of these ridiculous building codes. There's no reason why it should be hurricane resistant, it should be vog resistant."
Speaking to Herkes at a recent blessing for a long awaited mobile medical van here at the Kona Community Hospital, Herkes expressed frustration with regulations.
During these community planning meetings held in December, officials told the public that making the entire facility "vog-proof" would simply be too expensive, and they told those in attendance that the Ka'u Hospital, which has been retro-fitted to purify the air in case of heavy vog, could help the public in times of an SO2 health alert.
But in the comments section of the draft Environmental Assessment, hospital administrator Merilyn Harris reminded "Hospitals cannot provide shelter to the community in the event of a disaster. In emergency planning, hospitals have to focus on sheltering their own patients and the staff and possibly the families of their staff so that our patients continue to be safe and cared for and so that our emergency department can continue to function to provide emergency medical care."
The comment also states the hospital "would not be able to operate if we welcomed the community. That is why the hospital doesn't store community disaster supplies not only because we sure don't have the room but also so that there is no confusion as to our role."
Herkes is working on legislation that he believes will remedy the problems with the building codes, but it may be too late to impact the Ka'u Shelter & Gym.