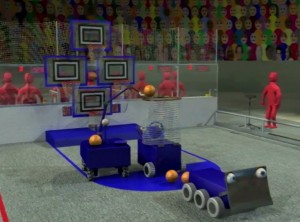 HONOLULU, Hawaii: More than 1,000 high-school students from around the world will have the opportunity to showcase their hard work after an intense six weeks of designing and building an original robot in the FIRST® in Hawaii Regional Robotics Competition.
FIRST means "For Inspiration and Recognition of Science and Technology"
This week, at University of Hawaii at Manoa's Stan Sheriff Center, 38 teams of students – including kids from seven Big Island schools: Waiakea, Hilo, Ka'u, Konawaena, Kealakehe, West Hawaii, and Kohala – along with their engineering and technical mentors – will demonstrate their skill for science, technology, engineering and math (often referred to as "STEM").
They will compete for honors and recognition that reward design excellence, competitive play, sportsmanship, and high-impact partnerships between schools, businesses, and communities.
The 2012 "Rebound Rumble" robotics game is played between two Alliances of three teams each. Each Alliance competes by trying to score as many of the basketballs in the hoops as possible during the two minute and 15-second match. Balls scored in higher hoops score teams more points. Team Alliances are awarded bonus points if they are balanced on bridges at the end of the match.
Winning teams will earn a spot at the World Championship to be held April 25-28 at the Edward Jones Dome in St. Louis, Missouri.