OOKALA, Hawaii: A preliminary report has been issued by the National Safety Transportation Board about the April 19th plane crash in a corn field along the Hamakua Coast.
A two-seat single-engine propeller airplane attempted what appeared to be an emergency landing near Oʻokala Dairy road, by the 30-mile marker of Highway 19. The pilot — a 68-year-old Hilo man — was seriously injured, and was extricated by rescue crews and airlifted to North Hawaii Community Hospital for treatment of his injuries. Police later reported that the pilot was air-lifted to Queen's Medical Center on Oahu, in critical condition.
The following is from the NTSB preliminary report, which identified the operator of the flight as Captain Cruise Inc of a Papaikou address: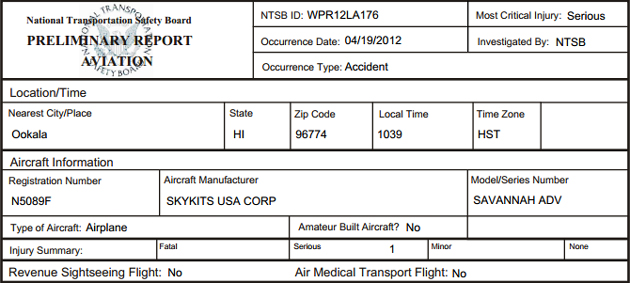 Brief narrative statement of facts, conditions and circumstances pertinent to the accident/incident:
On April 19, 2012, about 1039 Hawaiian standard time, a Skykits Savannah, N5089F, light-sport airplane impacted terrain following a partial loss of engine power in cruise flight near Ookala, Hawaii. The airplane was substantially damaged, and the pilot/owner was seriously injured. The personal flight was conducted under the provisions of Title 14 Code of Federal Regulations Part 91. Visual meteorological conditions prevailed, and no FAA flight plan was filed for the flight.

Two witnesses working at a dairy farm heard the airplane fly overhead. One noticed that the engine did not sound right, saw the airplane descending, and believed that it was going to crash. The witnesses tracked it visually and then got in a car to follow, but lost sight of it. Shortly thereafter, they saw that the airplane had impacted in a field of young corn plants. On reaching the wreckage, they saw that the pilot was seriously injured, and telephoned 911 for assistance.

According to the pilot, he based the airplane at Hilo International Airport (ITO) Hilo, Hawaii. About 75 minutes before the accident, he departed ITO, flew northwest along the coast, and landed at Upolu Airport (UPP), Hawi, Hawaii. He did not exit the airplane, and departed UPP a few minutes later. While in cruise flight at an unspecified altitude, the engine decreased to "about 25 percent" of its normal cruise power. The pilot could not recall any details subsequent to the power loss.

On-scene examination by a Federal Aviation Administration (FAA) inspector determined that the wreckage was located in a soft, lightly-vegetated field at an elevation of about 1,500 feet, and about 21 miles northwest of ITO. There were no ground or vegetation scars anywhere but immediately under the airplane. The airplane came to rest upright. All three landing gear were deformed upward so that the fuselage rested on the ground. The aft fuselage was folded down about 30 degrees. The empennage was mostly intact, and the left wing was deflected slightly down. All three blades of the composite propeller were fractured. The left fuel tank was about 2/3 full, but the right tank was compromised, and contained very little fuel.

FAA information indicated that the pilot held a private pilot certificate that was issued on the basis of his Canadian pilot's license. Examination of the pilot's records indicated that he had a total flight experience of about 596 hours, including about 548 hours in the accident airplane make and model. His most recent FAA second-class medical certificate was issued in 2006, and no records of any FAA-required flight review were located. The airplane was manufactured in 2006, and was equipped with a Rotax 912 ULS engine.

The ITO 1053 automated weather observation included winds from 320 degrees at 4 knots; visibility 10 miles; few clouds at 7,500 feet; temperature 24 degrees C; dew point 18 degrees C; altimeter setting of 30.01 inches of mercury; and rain showers in the vicinity. (Updated on Apr 27 2012 4:06PM)
[FMP poster="https://www.bigislandvideonews.com/media/2012/04april/0420planeBIG.jpg" width="280″ height="153″]https://www.bigislandvideonews.com/media/2012/04april/0420plane.mp4[/FMP]
In this video shot by Daryl Lee, two Big Island Dairy farmers – Corey Gillins and Lawrence Cacabelos – describe what they heard and saw, from their vantage point nearby, and they recount how the pilot complained of severe back pain, and had trouble getting out of the plane.
Although NTSB preliminary reports are issued soon after the incident, it can take much longer for the final reports to be issued.