KAILUA-KONA, Hawaii: The Natural Energy Laboratory of Hawaii Authority, or NELHA, is going before the Board of Land and Natural REsources on Friday to request a few changes to the terms of its lease along Kona's shore.
The managing body of the Natural Energy Laboratory will pay a $480 a year rent, in addition to the 50% of any the Net Operating Income it already agrees to pay, in order to continue the lease of the 870 acres of Kona fastlands, and the easement of 3,000 acres of submerged lands. The BLNR submittal says roughly 240 acres of fastlands have been subleased for natural energy uses. Another 170 are used for roadways or setbacks. The rest – about 460 acres – remain unimproved. The $480-a-year rent covers staff expenses for the management of the lease, according to BLNR documents.
NELHA is also seeking to modify the Character of Use Provision to include "Telecommunication Purposes":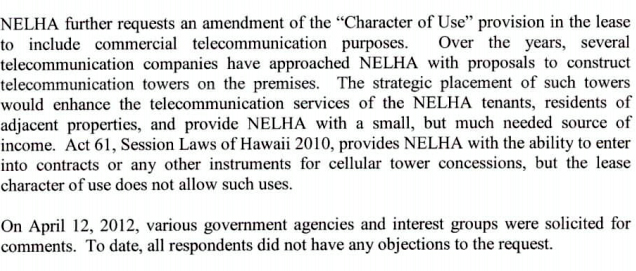 The Federal Aviation Administration had no objections, but provided these comments:
The NELHA Baord also wants to extend the lease term for an additional 20 years for a total term of 65 years, saying the remaining 35 years are too short for potential tenants to invest a significant amount of funds for a project.
The staff is recommending the BLNR grant the requests.
[FMP poster="https://www.bigislandvideonews.com/media/2012/03march/0325toyamaBIG.jpg" width="280″ height="153″]https://www.bigislandvideonews.com/media/2012/03march/0325nelha.mp4[/FMP]
NELHA is a state agency that – according to its website – operates "a unique and innovative ocean science and technology park in Kailua-Kona on the island of Hawaii. Strategically located at Keahole Point next to the Kona International Airport and adjacent to one of the steepest bathymetric offshore slopes in the Hawaiian Islands, NELHA offers an incredible combination of assets in one location." This video (right) gives an idea of some of the work NELHA is responsible for fostering.
The BLNR will meet on Friday (May 25, 2012) at 9 am at the Kalanimoku Building in Honolulu.