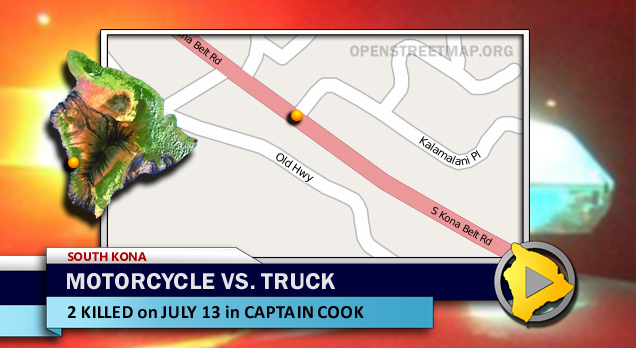 UPDATE: The crash in Captain Cook has left two dead, according to Hawaii County Police.
From a Hawaii County Police media release:
Responding to a 9:13 p.m. call, Kona patrol officers determined that a 40-year-old Kailua-Kona man was operating a 1994 Honda motorcycle and traveling south on Route 11 when he crossed the centerline and collided with a 2005 Chevrolet pickup truck being operated by a 33-year-old Kealakekua man. The Chevrolet was also traveling south and making a left turn onto Kalamalani Place.

A third vehicle, a 1991 Toyota pickup truck that was parked on private property, also received minor damage.

The motorcycle operator was identified as Toby H. Ledward of a Kailua-Kona address.

The driver of the truck was identified as Glennard A. Sadumiano, of a Kealakekua address.

The motorcycle operator was not wearing a helmet and the driver of the truck was not wearing a seat belt.

Fire Rescue personnel took the driver of the Chevrolet pickup truck to Kona Community Hospital, where he died at 9:38 p.m.

Ledward was later transported to the hospital, where he was pronounced dead at 11:40 p.m.

Police believe that the motorcycle operator was speeding and also believe that alcohol was involved.

Traffic Enforcement Unit officers have initiated negligent homicide and coroner's inquest cases and have ordered autopsies to determine the exact cause of death.
Police ask that anyone with information about this crash call Officer Joshua Lewis at 326-4646, extension 229.
These are the 17th and 18th traffic fatalities on the Big Island this year compared with 12 at this time last year. On Sunday, a fatal crash on Route 190 took the life of a Waikoloa man, bringing that total to 19.
INITIAL REPORT: CAPTAIN COOK, Hawaii: A truck vs. motorcycle collision at the intersection of Highway 11 and Kalamalani Place on Friday evening (July 13th) has killed one person and injured another, according to Hawaii County Fire officials.
When rescue crews arrived on the scene shortly after 9:15 p.m., they found the rider of the motorcycle lying in middle of the highway with no signs of life. The truck was found 50 feet off the highway in a private yard, where the driver was found pinned in the front cab area of the truck. The driver had to be extricated from truck by rescue crews before being transported to Kona Community Hospital.
The crash closed Highway 11 and forced motorists to re-route using Keei Road and Napoopoo Road as an alternate route, according to county emergency alerts.
The fire department says the cause of the crash is presently unknown, but did say the motorcycle struck the driver side door of the truck at an uknown rate of speed. The scene has been turned over to police for investigation.