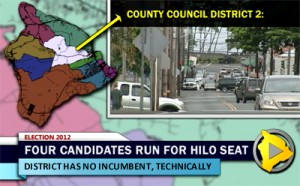 HILO, Hawaii: Four candidates are running for the Hawaii County Council district 2 seat this year. This is the section of Hilo that goes from the highway towards mauka, all the way up to the summit of Mauna Kea. It includes all of Downtown Hilo, Kaumana, Waiakea, Piihonua and the University. It does not include Keaukaha or Panaewa.
There is no true incumbent for the seat. Councilman Donald Ikeda has reached his term limit, and is now going for State Senate seat. The one candidate that comes closest to the incumbent is J Yoshimoto, who is currently the councilmember representing district 3. But the redistricting process has sent him into Downtown Hilo, looking to fit into the a district in order to hold on to a council position.
We caught up with Yoshimoto and the three other non-partisan candidates at a recent forum in Hilo. Ken Goodenow, Rachel Thompson, and Steve Wilhelm were all in attendance, introducing themselves to the crowd before getting down to business.
The forum featured the popular speed dating format… each candidate spends a little time at a table with a handful of residents before rotating to the next table.