HILO, Hawaii: More economic analysis from Hawaii Pacific University professor Dr. Leroy Laney at the 38th annual Hawaii County Business Outlook Forum. The event is an annual tradition for members of the Hawaii Island Chamber of Commerce in Hilo.
Earlier this week, we covered the part of Laney's presentation that dealt with tourism… visitor arrivals and spending is growing, but not enough to speed up the economic recovery on the island since the recession hit a few years ago.
One of the sectors that remains in the doldrums, according to Laney, is construction.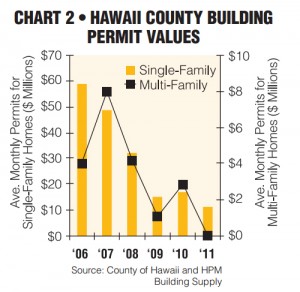 In 2010, a slight uptick in building permits gave rise to optimism that the island's construction cycle was turning around. But that was unstustained.
According to the First Hawaiian Bank Forecast report, prices of existing homes have fallen so far that one can get a better deal on a resale than a new home, so developers aren't building new product. Foreclosures and short sales continue to put downward pressure on prices.
Hawaii County real estate sales are still rising and prices are falling, according to 2011 data from the Hawaii Information Service.
But as these charts show, the rate of decline for single-family units is diminishing.
Another telling series of charts… median home prices for four island districts… Puna, Hilo, South Kohala and North Kona… the graphs, courtesy the Hussey Appraisal Group, suggest the bottom is approaching. Hilo seems to have turned the corner strong, while Puna and South Kohala are experiencing far more gradual rebounds.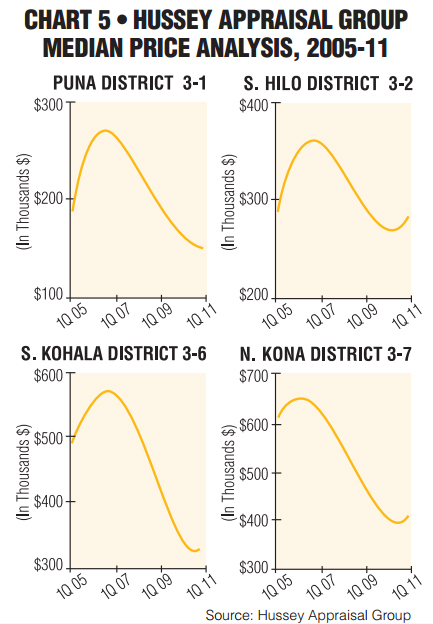 Laney also delved into some of the island's other sectors… like the contributions of The Natural Energy Lab at Keahole Point, which survived the recession without losing any of its 41 tenants.
"There are about 400 employees", reports Laney in the First Hawaiian Bank economic forecast, "and combined tenant revenues total about $50 million. Around half comes from five bottled water operations, and the other half from aquaculture. Bottled water sales still go mainly to Japan, and recession there has affected sales. But ironically, in the long run Japanese demand for pure water could actually rise."
Laney also wrote and spoke about the Thirty Meter Telescope, which plans to operate on Mauna Kea by 2018:
"Development of the Thirty Meter Telescope (TMT) telescope atop Mauna Kea remains on track. The permit application was approved in February 2011 by the Board of Land and Natural Resources.

It is hard to overestimate the importance of this project for jobs, the construction industry, UH-Hilo base facilities and the image of the island generally. A payroll of 140 permanent employees, not including contractors, and an estimated annual budget of $26 million are only the beginning. Because TMT is the first of an entirely new generation of telescopes, its Hawaii location ensures the primary role of the state and county in astronomy's future."
And Laney did not forget the University of Hawaii at Hilo, an economic high spot for East Hawaii:
"The growing presence of UH-Hilo puts Hilo on the road to becoming a "university town." One development in 2011 is graduation of the first class at the new Hilo College of Pharmacology. Also, the Western Association of  Schools and Colleges recently approved a Doctor of Pharmacy program."

"Additions to the campus in recent years have been several, and more are in the pipeline, including: a new Office of Student Services Building; Hale Kanilehua Student Housing ($8 million); and Kawili Street Student Housing Phase I ($32 million), the initial phase of University Town Center. Housing like this is critical for expansion. With an enrollment of 4,000 students, UH-Hilo now has only 600 beds on campus and estimates that it loses 350 admitted students each fall for lack of housing. Outside rents are generally higher than most of them can afford, and most such rentals are not near the campus."
Later this week, we will have Laney's analysis on Hawaii Island agriculture…