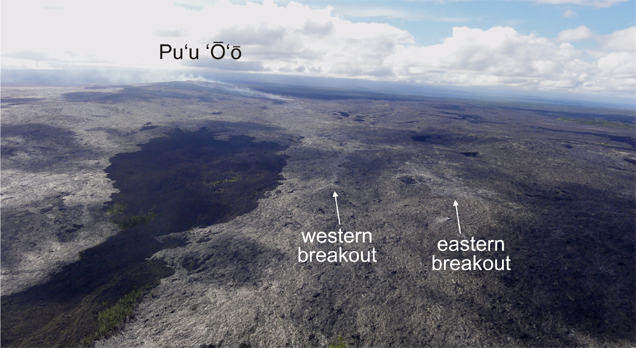 HAWAII VOLCANOES NATIONAL PARK, Hawaii: Hawaiian Volcano Observatory geologists confirmed the location of two new lava breakouts above the top of the pali on Kilauea volcano during an overflight on Tuesday.
According to scientists, who were describing the USGS image seen above:
Surface lava flows on the coastal plain and pali died out over Labor Day weekend with summit deflation, and new breakouts appeared on Sunday, September 2, farther upslope with the resumption of summit inflation. The new breakouts, which are modest in size and vigor, are above the top of the pali, about 4 km (2.5 miles) southeast of Puʻu ʻŌʻō.

The western breakout was nearly stalled, and most of the activity was focused at the front of the eastern breakout. Both breakouts consisted of pāhoehoe flows.
HVO geologists also got a good view of the pits in the floor of Pu`u `O`o Crater on Tuesday, and were able to see lava ponds in the east and south pits with the north pit being fully crusted.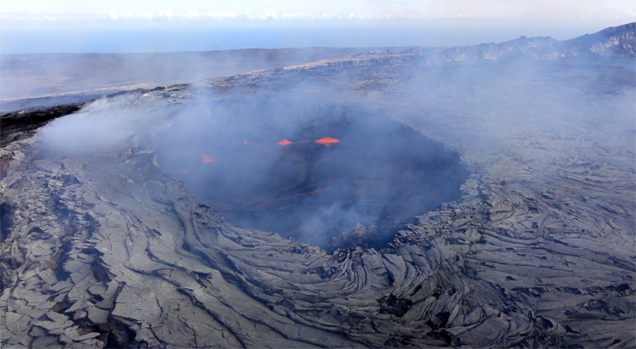 Overnight at Pu`u `O`o Crater, scientists say lava levels remained visible in the east pit; glow was occasional from the south pit, and the north pit remained crusted with persistent glow from a point on its west edge. The glowing spot at the base of the southeast flank of Pu`u `O`o, marking a collapse in the roof of the lava tube, appeared much brighter overnight.
More info can be found on the HVO website.