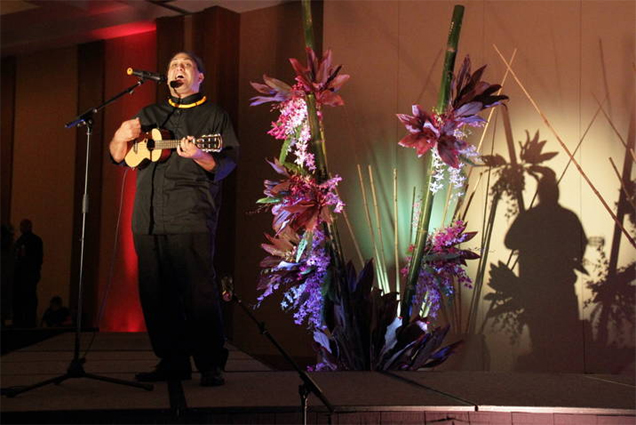 SOURCE: Waikoloa Beach Resort
Waikoloa Beach Resort, Hawai'i: Any weekend can be a great time for a mini "stay-cation" for Big Island families, with special kama'āina room rates, fun Hawaiian cultural events and more at Waikoloa Beach Resort. September's Hawaiian Cultural Weekend (in cooperation with Hawai'i Island Festival) carries on the colorful "Aloha Week" traditions celebrating Hawaii's unique history, music, and cuisine. (See full schedule below.)
Festivities kick off Saturday, September 8 at 12:30 p.m., when "Hawaii's Soul Food" takes the stage at Waikoloa Beach Marriott Resort & Spa's Ali'i Ballroom, for everybody's favorite Poke Contest. Poke means "to cut or dice" in Hawaiian, and poke ("po-keh") is a traditional pūpū made with bite-sized pieces of fish, creatively prepared and seasoned with worlds of ingredients and imagination. Both home cooks and top professional chefs compete against their peers for the championship, and after the judges announce the winners, the audience gets to taste too.
Then at 6:30 p.m., the Clyde "Kindy" Sproat Falsetto & Storytelling Contest takes place at Waikoloa Beach Marriott Resort & Spa's Naupaka Ballroom. Celebrating its 21st year, this unique folk music competition features the Island's talented male singers of all ages, who lift their voice into the upper register and captivate the audience with the stories behind the songs.
Waikoloa Beach Marriott Resort & Spa offers affordable kama'āina rates during the Hawaiian Cultural Weekend, making it easy for families to plan a quick, end-of-the-summer getaway. Waikoloa Beach Resort's location at 'Anaeho'omalu Beach, great golf, numerous dining, shopping, recreation and relaxation options mesh for a complete vacation destination for visitors and kama'āina.
For more information visit www.WaikoloaBeachResort.com.
Hawaiian Cultural Weekend at Waikoloa Beach Resort
SCHEDULE OF EVENTS
Saturday, September 8
Poke Contest
Waikoloa Beach Marriott Resort & Spa, Ali'i Ballroom
Doors open at 12:30 p.m.
Tickets $7
Please call Linda Pokipala, 937-4896 for contest information.
Clyde "Kindy" Sproat Falsetto & Storytelling Contest
Doors open 5:30 p.m., contest begins 6:30 p.m.
Waikoloa Beach Marriott Resort & Spa, Naupaka Ballroom
Tickets $7
For contest information, call Pua Garmon, 345-8575