Video and photos courtesy Hawaii Wildlife Center | Voice of Stephanie Salazar
KAPAAU, Hawaii: It was a milestone moment for the Hawaii Wildlife Center when its first patient, an injured red-footed Booby from Kauai, was successfully rehabilitated and released back into the wild.
Representatives of the Wildlife Center shared the story in a media release that included pictures and video.
One photo (right) shows the bird in its kennel on the plane headed from Kaua'i to Hawai'i Island, where it had no idea that it was about to become the first patient at the North Kohala facility.
The Hawaii Wildlife Center was blessed in November of last year. A large crowd celebrated the official opening. The founder, president and Center Director – Linda Elliott – has been there from the very beginning. But all that hard work to get the  brand-new, state-of-the-art facility up and running was only the beginning.
The Center received its permits this September and has since hit the ground running.
The first patient was immediately given a thorough examination upon arrival. When it was determined to be strong enough a week later, it was introduced to the seabird flight aviary, a custom-designed flight pen that would allow the young bird to strengthen its muscles over time and practice flying…. sort of like physical therapy for humans.
The bird also underwent a waterproofing process; a special bath which involves the removal any oils or residue from feathers that would prevent birds from becoming waterproof. Luckily, Elliott is a seasoned veteran of waterproofing and bathing procedure having managed wildlife response at 18 oil spills all over the world.
Once the young Booby was given a clean bill of health, the decision was made to release it back to its colony on Kaua'i. A volunteer pilot eventually came forward to make the trip. The bird was given a warm welcome at the Lihue Airport, and it was transported to its release site where it stretched its wings and got its bearings before taking off towards the coastline.
Wildlife Center reps give credit to State and Federal Wildlife Agencies, The Kaua'i Save our Shearwaters Program, and a small fleet of volunteer pilots for the successful rescue and rehab.
The Hawaii Wildlife Center is not a zoo or a preserve, it is a professional organization that focuses on treating and rehabilitating sick and injured native wildlife for release back into the wild. It only accepts native seabirds, shorebirds, birds of prey, waterbirds, forest birds and the Hawaiian Hoary Bat. It does not accept introduced, non-native, invasive, exotic or agricultural animals.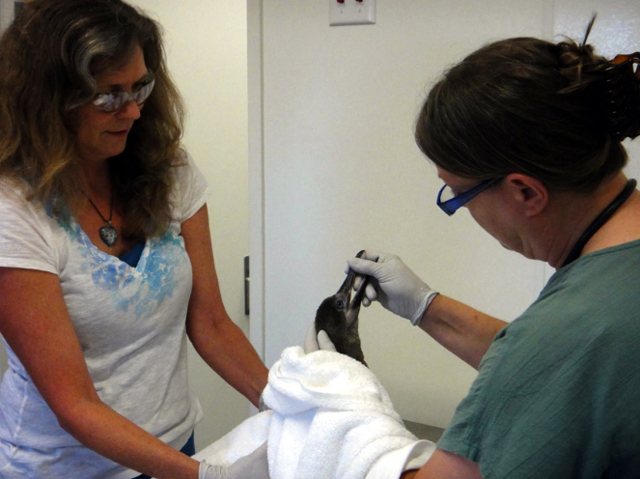 Visit the Hawaii Wildlife Center online at hawaiiwildlifecenter.org