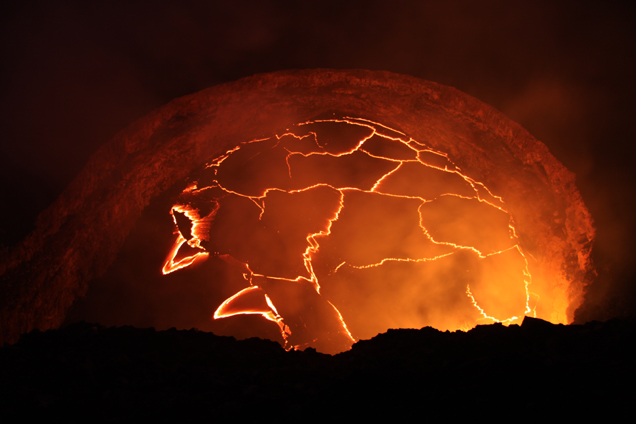 HAWAII VOLCANOES NATIONAL PARK, Hawaii: The series of record lava lake rise and falls that is "tantalizing visitors" at the Hawaii Volcanoes National Park, has prompted a media release from park officials.
This week, scientists at the U.S. Geological Survey's Hawaiian Volcano Observatory documented a record high lava lake level within Halema'uma'u Crater at the summit of Kīlauea volcano (video right). On Friday, the lava lake rose to levels approximately 125 feet or less beneath the crater floor, and it appeared on HVO webcams that the lake rose even higher, before sinking again this afternoon.
This is the highest lava lake level reached since forming after an explosive eruption on March 19, 2008.
The continuing trend of repetitive rising and falling lava levels has attracted many to the best vantage point in the park: the overlook at Jaggar Museum. As the level rises, thunderous booms have been heard in the fiery crater; the result of the rock walls of the vent expanding and cracking from the intense heat.
But the best show is yet to come. Dr. Jim Kauahikaua, HVO's Scientist-in-Charge, says the lava lake will be visible from the overlook at Jaggar Museum if it comes within about 65 feet of the crater floor.
The park had these additional remarks in the media release:
Meanwhile, rangers urge park visitors to obey traffic signs and to be safe. Visitors are gathering at park overlooks after dark to view the dramatic glow that lava beneath the surface casts upon clouds and the plume of volcanic gas, hoping molten lava will rise high enough to be seen. The parking lot at Jaggar Museum is busy with hopeful observers, who are reminded to park only in marked stalls and heed all signs.

All visitors who plan to come after dark are urged to bring flashlights, especially those who park at Kīlauea Overlook, which affords panoramic views of the crater and Kīlauea caldera. Earth cracks, rocks, and other hazards are not easily seen in the dark.

In addition, several pairs of nēnē, the federally endangered Hawaiian goose, are beginning to nest near the Jaggar Museum parking lot, and are sometimes spotted along roadsides and trails. Cars are the leading cause of nēnē fatalities, and drivers are cautioned to be alert, and to drive the speed limit.
"Safety is our number one priority," said Park Superintendent Cindy Orlando in the media release. "We encourage everyone to visit during this fascinating episode, but to exercise caution. Staff will be assisting visitors with parking and interpretation of the current activities. If people come prepared and proceed as directed, they should have an unforgettable experience," she said.