By Big Island Video News staff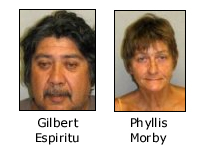 PUNA, Hawaii: A major drug bust last week in Puna is now being reported by police.
Tips from the public led to the arrest of nine individuals on Thursday October 18th, at the scene of an alleged indoor marijuana-growing site.
Warrants were served at three adjacent properties on Tiki Lane in the Ainaloa subdivision. Police believe its all a part of a larger drug distribution operation.
Police recovered 321 marijuana plants, 96 clones, 98.8 pounds of dried marijuana, 2.5 grams of heroin, 125 grams of hashish and 232 hydrocodone pills in indoor-growing operations at two of the properties.
Arrested at the scene were the occupants of the first property, 53-year-old Gilbert Espiritu and 56-year-old Phyllis Morby, and seven other persons who were present and believed to be part of the distribution operation. According to police, those people are:
 46-year-old Rachelle Tuvera of Hawaiian Beaches, 43-year-old Sally Blankenship-Ziegler of Oregon, 53-year-old Tobias Nakea of Hawaiian Beaches, 22-year-old Kopia Nakea of Hawaiian Beaches, 19-year-old Kaimana Nakea of Hawaiian Beaches, 28-year-old John Muscat of Mountain View and 57-year-old Vieux Rawls of Mountain View.
Then on Friday October 19th, police served an additional search warrant at a home on Road 8 in Hawaiian Acres and recovered 465 marijuana plants.
And again on Saturday October 20th, officers recovered 37 marijuana plants from an indoor-growing operation at property on Road 7 in Hawaiian Acres, and 48 marijuana plants from a home on 4th Avenue in Hawaiian Paradise Park.
Now, Espiritu and Morby face a long list of charges.  From the police media release:
That same day, police charged Espiritu with four counts of first-degree promotion of marijuana, two counts of second-degree promotion of marijuana, two counts of promoting a harmful drug, two counts of promoting a dangerous drug and 10 counts of possessing drug paraphernalia. His bail was set at $94,000. Morby was charged with the same offenses, as well as one count of promoting a detrimental drug. Her bail was set at $98,000. Both were held at the Hilo police cellblock until their initial court appearance on Monday (October 22).
The remaining suspects were released pending additional information.
Police ended the release with a mahalo:
Police thank the public for their help in identifying suspected drug operations. Anyone who has information relating to illicit drug use and distribution, may call the Vice Section's drug tip lines at 934-"VICE" (934-8423) for information about East Hawaiʻi or 329-"ZERO-ICE" (329-0423) for information about West Hawaiʻi.

Tipsters may also call Crime Stoppers at 961-8300 in Hilo or 329-8181 in Kona.