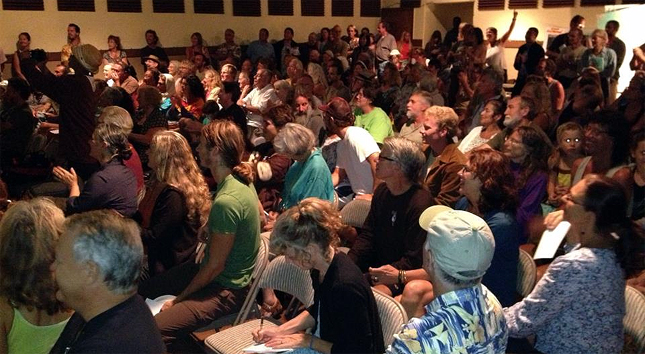 Video by David Corrigan, Voice of Stephanie Salazar
[FMP poster="https://www.bigislandvideonews.com/media/newsupdateextended.jpg" width="320″ height="175″]https://www.bigislandvideonews.com/media/2012/11november/1130geothermal.mp4[/FMP]
PAHOA, Hawaii: It was standing room only at the Akebono Theater in Pahoa on Thursday night for the Puna Pono Alliance's community meeting on geothermal energy.
The group shared the stage with a number of leaders, as well as current and former elected officials, united by their opposition to unfettered development of geothermal on Hawaii Island.
"It's really really been inspiring to just see people really start to understand what's going on," said Robert Petricci, a Puna Pono Alliance member who also served as the night's MC. "When this started about January 1st, we heard about it and called the first meeting and nobody really knew what was going on. Then we went to Pele Defense Fund. Palikapu was the first place I went because he did this before. Twenty years ago, they lead the fight."
The gathering was a chance to share information on what many consider to be the latest scramble secure land on the volcanic East Rift Zone on which to develop further geothermal resources.
With the Hawaii Electric Light Company's draft Request For Proposals on the table for another 50 megawatts of geothermal power, there have been both rumors and substantiated reports of private landowners in Puna entertaining deals with geothermal developers.
"We are up against a huge project," Petricci told the crowd. "You probably read the paper last week Sunday, where they talked about all the different properties that are being leased. Opihikao, in the four corners, Pohoiki… we hear there's about twenty companies. We don't really know, a lot of that is proprietary information so they don't talk about it. Even Avalor. When we found out, I went to a meeting with Avalor for the Opihikao property. It's a 500 acre property up in Opihikao that they're trying to lease."
At the meeting, Petricci said that the project manager, "said that they actually are leasing other properties and when we asked him where he wouldn't tell us where. And so we know there's a lot of other companies that are leasing a lot of a large lots."
"Part of that," added Petricci, "is because there's a huge amount of money coming out of the federal government through the Department of Energy for green projects and geothermal is considered a green project."
"We got involved on the native side," said Palikapu Dedman of the Pele Defense Fund, the first speaker of the evening, "looking at what the impacts that desecrating religion would do to a race of people. We tried to get that as something we thought was legitimate and it still is. History has it, where we've all become Christians, and a lot of us is still holding on to traditions. So, that was our argument and our point of view."
Outgoing county council chair Dominic Yagong – who championed a number of geothermal related bills that were eventually vetoed by current Mayor Billy Kenoi – spoke about Bill 292, which would put a hold on geothermal drilling done by future companies (not necessarily Puna Geothermal Venture, currently operating outside Pahoa) during the night time hours.
Also taking the podium and addressing his supports on Thursday evening was former mayor Harry Kim, on the heels of his general election defeat by Kenoi in the race for Hawaii County mayor. Kim stressed the importance of home rule, and the repeal of Act 97.
Both Kim and Yagong received standing ovations after their remarks. Another ovation was given to the new state senator of the Puna district, Russell Ruderman. He flew back from Honolulu to attend the Pahoa meeting.
Also speaking on Thursday night, Sydney Ross Singer – a medical anthropologist who has been focusing on the effects of Low Frequency Noise, which he says is likely to be created by geothermal well drilling.
Then it was time for questions and answers.
Eventually, things began to break down… Gene Tamashiro asked why no one was addressing what he called "the elephant in the room"; the federal reserve, the treaty of annexation, etc. … before things got out of hand…
Also addressing this crowd for the first time: Councilman elect for District 4, Greggor Ilagan…
Who promised an open door policy…
Ilagan also found himself on the hotseat in front of a crowd that wanted to know were he stood on the issue.