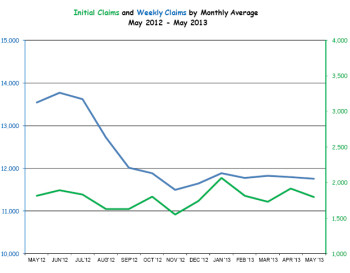 HONOLULU, Hawaii – The seasonally adjusted unemployment rate in the Aloha State dropped .2 percent from April to May, ending up at 4.7 percent. That number was 6.1 percent on year ago in May 2012.
The Hawaii State Department of Labor and Industrial Relations says statewide "there were 615,750 employed and 30,600 unemployed in May, for a total seasonally adjusted labor force of 646,350. Nationally, the seasonally adjusted unemployment rate was 7.6 percent in May, compared to 7.5 percent in April."
Hawaii County lags behind with a 6.5 percent unemployment rate (that number is not seasonally adjusted) however that is still significantly better than last year's 8.4 percent recorded in May 2012. The state provided the numbers below.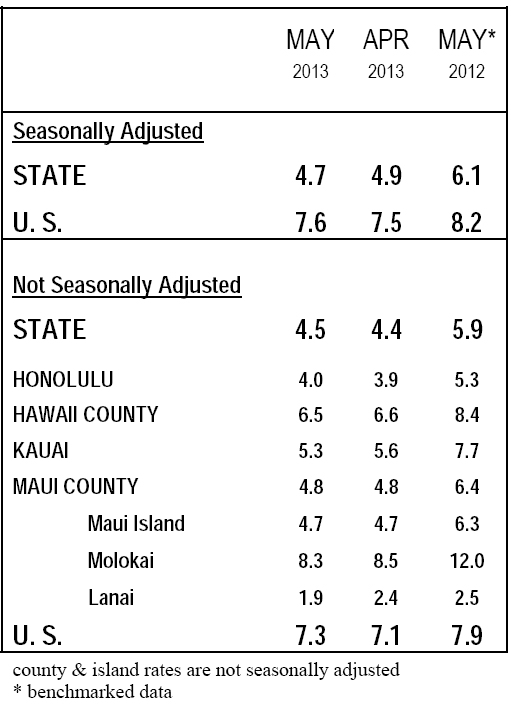 The DLIR also offered this breakdown:
In a separate measure of employment, total seasonally adjusted nonagricultural jobs declined by 2,000 over-the-month. Government declined by 2,800, mostly due to continual shifts in seasonal staffing patterns in the Department of Education. In the private sector, job expansion occurred in Leisure & Hospitality (+800), Education & Health Services (+300), Professional & Business Services (+100), and Financial Services (+100). Within Leisure & Hospitality, the bulk of the rise was attributed to Food Services & Drinking Places. Employment in Other Services remained unchanged. Job contraction was experienced in Manufacturing (-100), Trade, Transportation, & Utilities (-100), and Construction (-300). Over-the-year, among major industry sectors, there has been significant job gains in Construction (+2,700) and Leisure & Hospitality (+1,900).