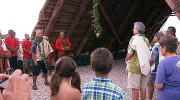 KONA, Hawaii – After decades of fighting to preserve the popular North Kona shoreline, a public blessing and dedication for the new Kohanaiki Beach Park was held on Wednesday.
Local leaders and developers of the nearby Kohanaiki Shores gathered on the beach to complete the transfer of the 1.5 miles of coastline – including the popular Pine Trees surf spot – into the public trust. A Good Faith Agreement, forged in 2003, establishes Kohanaiki as the first County park on Hawaii Island where management and maintenance will be a shared responsibility between landowners, County and community.
Lineal descendants of the area were on hand, as were the members of the community groups that have long taken care of the cherished beach.
For Kona councilwoman Karen Eoff, it was the culmination of a long journey.
Eoff has been involved with the project in various capacities since its inception. When it was time for the Hawaii County Council to officially accept the transfer of the park, Eoff sat as council chair for a long day of testimony in support of the project (archive video to the right).
Tuesday's ceremony was centered around the park's new halau, which will one day house a traditional, double hull voyaging canoe.
We spoke to the man who headed the effort to build the halau, Walter Wong, after the blessing.
Former Kona Councilman Angel Pilago successfully took the former property owner, Nansay Inc., to court over Native Hawaiian gathering rights on the property. He expressed his excitement over the halau in his testimony last week.
Kohanaiki got a big make-over en route to this point. The park now includes bathrooms and outdoor showers, designated camping areas, improved and additional parking, and improved roadways to and along the shoreline and within the park.
But not everyone is thrilled by the changes. A popular jeep trail on the south end of Kohanaiki is now closed to vehicular traffic. Some testifiers – many a part of the same group that negotiated the terms of the agreement – objected during last week's council meeting.
Eoff downplayed any rift in the Kohanaiki Ohana.
Eoff also said the work doesn't end here. The county says a preservation and cultural plan is in place to guide the conservation of historic and cultural sites at the park, as well as ongoing cultural practices at the halau.
The park will be open daily and available for camping five days a week for up to 80 campers a night. Park hours for day use will be from 5:30 a.m. to 9 p.m. Camping administration will eventually transition to the Department of Parks & Recreation, but is currently handled by Kohanaiki Shores. Camping permits are issued at the beach on a first come, first served basis. For more information and for reservations, call 329-6200.
Editor's note: Mahalo to the Office of the Hawaii County Mayor for contributing some of the video seen in this report.