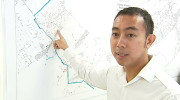 PAHOA, Hawaii – Last week, the Hawaii County Council voted to increase the Hele-On bus fares, after hearing an earful from resistant riders at the West Hawaii Civic Center in Kona.
Councilwoman Brenda Ford was the only no vote on bill 86, which raises the cost by $1 dollar per one-way trip starting in July. That doubles the cost for regular riders to $2. It also ends free rides for students, seniors and people with disabilities. The age for the senior discount will also be raised from 55 to 60.
The vote came despite public testimony against the increase…. much of it from Hilo and Pahoa via teleconference.
The 4th district councilman, Greggor Ilagan, voted in favor of the fee increase, and he has been a lightning rod for criticism from his constituents ever since. The video of his explanation to the voters – taken by Kerri Marks – got a lot of play on social media, and it drew some angry comments.
We asked Ilagan if he would care to elaborate on his decision a little more on Monday. He invited our camera to the council office in Pahoa for his explanation, set before a large map of his district.
He indicated that the sprawling, under served Hawaiian Paradise Park subdivision played heavily into his thinking.
The young councilman reflected on his own times spent riding the bus… and the sort of people he saw using the service.
To make matters worse: Gone are the days of Senator Daniel Inouye finding millions for the island's bus system.
We asked Ilagan about one particular piece of public testimony… delivered by Kona resident Shannon Rudolph on the day of the vote.
Which led Ilagan to another point… he is hopeful he might be able to find a way to make the bus service in Puna more efficient.
As the county struggles to maintain service at a fair cost to the rider, we asked Ilagan if he thought all the recent criticism of his vote was fair.