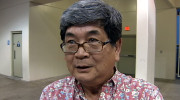 KAILUA-KONA, Hawaii – The community got an update on the status of the Kona Community Development Plan on Tuesday evening at the West Hawaii Community Forum held at the Maka'eo Pavilion.
These are regular gatherings, also known as Kona Town Meetings – and the topic changes each time. This time, it was all about the CDP… its "promises and problems".
Established by Hawaii County's revised General Plan in 2005, Community Development Plans are intended to direct future growth and planning according to the will of the community. Although it has been debated in the recent past, most now agree that the CDP carries the force of law, and is not just a guideline for decision makers.
Community Development Plans are either already in place or under development for the island's other regions. The Kona CDP was the first to be adopted, and so all eyes are on it to see how it weathers the realities of county planning.
On Tuesday, a panel delved into the history of the Kona CDP, which included attorney Michael Matsukawa… long time Kona CDP Action Committee member Ken Melrose… county councilwoman Margaret Wille … and, Bo Kahui, executive director for Laiopua 2020.
We talked to Matsukawa about the challenges the Kona CDP still faces.
There is also another issue brewing in the Kona CDP boundaries. The U.S. Fish and Wildlife Service is proposing to create a critical habitat for three species of rare plant in North Kona. The area being proposed includes seven units totaling approximately 18,766 acres… one of those units blankets Kealakehe, designated for urban growth in the CDP.
The designation could effect numerous development projects already underway at Kealakehe. Under federal rules, any development that plans to use federal funds will be directly impacted. The community has already begun to fight the designation. A large crowd packed the West Hawaii Civic Center in May to voice their opposition.
There was also a landmark case for CDP law under discussion at Tuesday's Kona Town Meeting.
A judge recently ruled that the county planning director and Board of Appeals violated the Kona Community Development Plan and failed to uphold the county's duty to protect natural resources when it awarded a development permit for a valued stretch of Waikakuu Forest.
Councilwoman Brenda Ford tried to protect the land through the Public Access and Open Space fund.
Patricia and Richard Missler, who live next door, sued to protect the land from development. Matsukawa was their attorney.
On Tuesday, councilwoman Wille reported that the corporation counsel will still try to appeal the decision. The news does not come as a surprise or disappointment to Matsukawa.