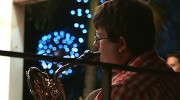 HILO, Hawaii – Independence Day celebrations were held across the Big Island of Hawaii on Thursday.
Skies were clear in Hilo for the evening fireworks along the bayfront.
This year the Hilo Jaycess put together the show with the help of the Mountain View-based Hawaii Explosives and Pyrotechnics company. For the first time, the fireworks were set off from a barge in the bay, rather than from Coconut Island.
One thing that didn't change this year: The county band once again provided the soundtrack for the display, performing the Overture of 1812 as the fireworks lit up the bay.