WASHINGTON, D.C. – The late Senator Daniel Inouye was one of 16 individuals to receive the Presidential Medal of Freedom Wednesday morning in the nation's capitol.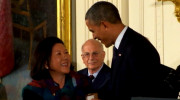 The Senator widow, Irene Hirano Inouye, accepted the award on her husband's behalf at the ceremony held in the White House East Room.
The president spoke highly of all the recipients, including the senator who served as a political inspiration to the Hawaii born president.
The Medal of Freedom is our nation's highest civilian honor, presented to individuals who have made especially meritorious contributions to the security or national interests of the United States, to world peace, or to cultural or other significant public or private endeavors.
The event marked the 50th anniversary of the Executive Order by John F. Kennedy that established the Medal of Freedom as a way to honor civilian service.
The senator had some remarkable company in the presidential honor. The list of recipients included Ernie Banks, Loretta Lynn, Dean Smith, former President Bill Clinton, and Oprah Winfrey.