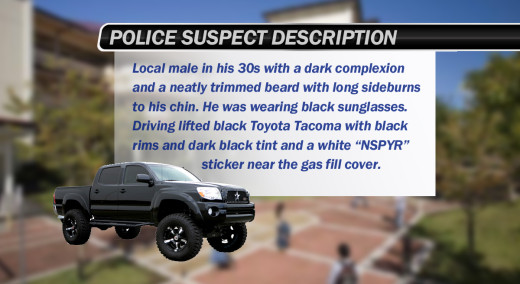 UPDATE: (Dec. 12, 7:00 p.m.) Police now say this reported crime was false. See the updated story here.
HILO, Hawaii – An employee of the University of Hawaiʻi was reportedly threatened with a gun on the Hilo campus Monday morning, and now police are asking for the public's help in locating the suspect and vehicle in the incident.
Police say they received a report that a 25-year-old male employee was near the upper campus at 9 a.m. when he was accosted by a local male who allegedly brandished a firearm and pointed it at him before fleeing in a black Toyota pickup truck.
The victim left the campus and went home to Puna before calling police to report the threat. He was not injured in the incident.
Police describe the suspect as a local male in his 30s with a dark complexion and a neatly trimmed beard with long sideburns to his chin. He was wearing black sunglasses. The truck was described as a lifted black Toyota Tacoma with black rims and dark black tint and a white "NSPYR" sticker near the gas fill cover.
Police advise the public not to approaching the truck, as the operator may be armed and is considered dangerous.
Instead, anyone who has information about this case or the identity or whereabouts of the suspect or vehicle is asked to call the Police Department's non-emergency line at 935-3311 or contact Detective Clarence Davies at 961-2384 or cdavies@co.hawaii.hi.us.
Tipsters who prefer to remain anonymous may call Crime Stoppers at 961-8300 in Hilo or 329-8181 in Kona and may be eligible for a reward of up to $1,000. Crime Stoppers is a volunteer program run by ordinary citizens who want to keep their community safe. Crime Stoppers doesn't record calls or subscribe to caller ID. All Crime Stoppers information is kept confidential.