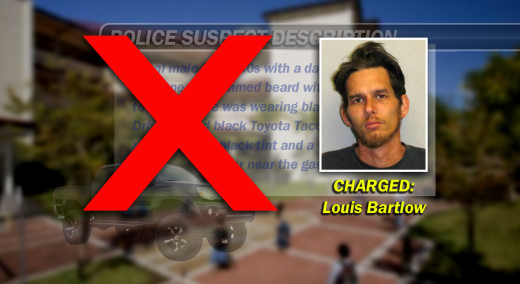 HILO, Hawaii – For the second time in a month, a report of a crime at the University of Hawaii-Hilo has turned out to be false.
Yesterday, police told us that an employee of the University of Hawaii was allegedly threatened with a gun on the Hilo campus Monday morning. With that report we were given a generic description of a local male and his getaway truck. We were even told the suspect may be armed and is considered dangerous.
Turns out that suspect is fictitious.
Police now say the whole thing was unfounded. The terroristic threatening case has been closed and the man who reported it, 25-year-old Louis H. Bartlow of Kalapana, has been charged with a crime.
Detectives say it has been revealed that the incident did not occur and that Bartlow is not even a university employee. Police arrested Bartlow on Thursday and charged him with false reporting to law enforcement authorities, a misdemeanor punishable by up to a year in jail. His bail was set at $500. He'll be in court on Friday.
If this sounds familiar, it should.
In November, an alleged sexual assault that was reported to have happened on the campus of UH-Hilo was also a lie. The female student came clean a few days later after the incident got widespread media attention.